Evaluate
Weigh the pros and cons of technologies, products and projects you are considering.
Software security tools to improve your skills in a single day
Software security tools from WebGoat and Foundstone's Hacme allow you to improve your technical security skills by letting you get your hands dirty. IT security specialist Kevin Beaver explains how to use these tools to get the real world experience you need for protecting applications and preventing your software from being hacked.
When it comes to boosting your technical information security skills, no single type of education can touch the value offered by hands-on learning. Getting your hands dirty by working with the ins and outs of software security in real-world settings leads to practical experience. Learning the fundamentals in this area is key. You know, such as basic buffer checking, input validation, stepping through application logic, and so on to see how software is hacked.
There are several good books on this subject like Exploiting Software: How to Break Code and 19 Deadly Sins of Software Security. I highly recommend these books. But what if you're not a developer? Where's a good place to start learning about hands-on software security? Whether you're a DBA, developer, security professional, or all of the above, it only takes playing around with some great tools to take your software security expertise to the next level.
Enter Foundstone's Hacme toolset and OWASP's WebGoat. Using these tools, you'll learn about the critical software security problems such as:
Cross-site scripting
Cross-site request forgery
Weak authentication mechanisms
SQL injection
Weak application logic
Privilege escalation
Improper session and error handling
Learning how these weaknesses are exploited in web applications, web services, and related databases is guaranteed to help you sharpen your security skills, especially when it comes to keeping your systems' crown jewels protected. The bonus is that these tools are free and the time required is minimal.
Let's take a peek at the Foundstone tools first. The Hacme tools are essentially a set of poorly-coded web applications (J2EE, C++, ColdFusion, and a web service) and you're tasked with finding the security holes in them. There are currently five themed tools: Hacme Casino (shown in Figure 1 below), Hacme Shipping, Hacme Travel, Hacme Books, and Hacme Bank.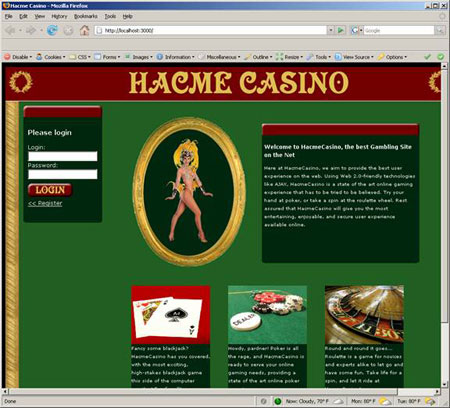 Figure 1 - The main page for Foundstone's Hacme Casino
Each tool has very good documentation with pre-canned hacking lessons and screenshots that step you through what you need to know, so you're not just hacking blindly. You could literally spend an hour or less on each one and learn a ton about how not to write software and manage your systems.
Now on to the popular WebGoat. WebGoat – now at version 5.0 – is sponsored by the Open Web Application Security Project (OWASP). It's similar to the Foundstone Hacme tools, as built-in lessons are included and there's good documentation to help you along. However, WebGoat focuses solely on the J2EE and Tomcat platform which limits its scope and your ability to learn software security on various platforms. Arguably, a software security flaw on one platform is essentially the same on all others. Whether you want to focus on Java is up to you. That said, WebGoat is more of an extensible framework with its own open source community, where you can share ideas and contribute your own lesson plans. A sample WebGoat page is shown in Figure 2.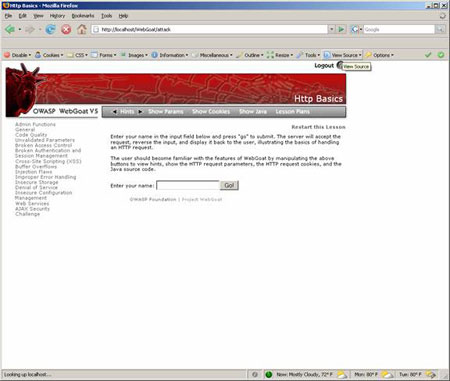 Figure 2 - The first WebGoat lesson on HTTP basics
Like the Foundstone Hacme tools, just a couple of hours spent with WebGoat and you'll grow your software security skills practically overnight. You could also perform automated
More on SQL Server Security:
testing on the Hacme and WebGoat applications using tools such as SPI Dynamics WebInspect and the N-Stalker Web Application Security Scanner. There's certainly some value in this and I encourage you to do so if you have the tools. However, the main intent with the Hacme tools and WebGoat is to step through software security problems manually. You'll get to know the application logic and understand how specific exploits are carried out at the hands of the bad guys. Either way, the bonus of working with tools like Foundstone's Hacme and WebGoat is that you don't have to worry about messing around with your own production environment. You can do everything conveniently at your own computer.
Forget the fancy four-and five-letter security certifications everyone covets. OK, they do add value, especially when it comes to getting work. However, it's hands-on experience with these types of security tools that will give you the real-world experience to keep your skills fresh. Ultimately, you'll be ahead of the competition. Bottom line: the Foundstone Hacme tools and WebGoat should be required learning for anyone who takes security seriously.

ABOUT THE AUTHOR
Kevin Beaver is an independent information security consultant, speaker, and expert witness with Atlanta-based Principle Logic, LLC. He has more than 18 years of experience in IT and specializes in performing information security assessments revolving around compliance and IT governance. Kevin has authored/co-authored six books on information security including Hacking For Dummies and Hacking Wireless Networks For Dummies (Wiley) as well as The Practical Guide to HIPAA Privacy and Security Compliance (Auerbach). He's also the creator of the Security On Wheels audiobook series. Kevin can be reached at kbeaver ~at~ principlelogic.com.
Copyright 2007 TechTarget