Problem solve
Get help with specific problems with your technologies, process and projects.
Securing SQL Server with access control, login monitoring and DDL triggers
SQL Server login monitoring and access control are important elements of SQL database security. Learn how DDL triggers can help alert you to security issues. Setting up security configuration in the beginning can prevent data breaches. Learn how to setup login monitoring and how to do advanced login monitoring as well as how Sys.dm_exec_sessions can tell you what is happening in your server.
Typically, SQL server administrators set up logins and users and ignore what occurs thereafter until a potentially serious breach occurs. Then, we scramble to try to figure out what "might have happened" without all the information and then run around and quickly try to fix the problem so it won't occur again. Wouldn't it be great if we have time to implement these measures prior to a failure? Here are the steps we can take to monitor and control access.
Setting up login auditing
The easiest feature to turn on is "Login Auditing". Right-click over the server, go to properties, security. By default, only failed logins are recorded, but you can record both successful and failed logins.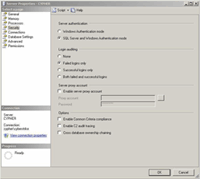 Click on image for larger version
Advanced login auditing
A common question that comes up in SQL Server security is how to control login activities with great detail, denying user access depending on login applications, properties, etc. One method I have seen is that the database administrator creates a job that loops over the logins and kills the logins that are not allowed. The problem with this approach is that the logins have up to a minute to get into the server and do damage (assuming the job runs at the lowest interval of a minute).
A reliable way to prevent this, is to implement a login trigger. The trigger fires after the authentication has completed, but because the user session has not been established yet, the login is unable to process information. The login trigger will only fire if a login attempt passing the authentication phase. Please review the login trigger below, it allows our old user roleaccess to login only three times.
 CREATE TRIGGER connection_limit_trigger ON ALL SERVER FOR LOGON AS BEGIN IF ORIGINAL_LOGIN()= 'roleaccess' AND (SELECT COUNT(*) FROM sys.dm_exec_sessions WHERE is_user_process = 1 AND original_login_name = 'roleaccess') > 3 ROLLBACK; END;

Using information from Sys.dm_exec_sessions to increase security
Sys.dm_exec_sessions contains the following fields, many of which you will find useful in limiting access: session_id, login_time, host_name, program_name, host_process_id, client_version, client_interface_name, security_id, login_name, nt_domain, nt_user_name, status, context_info, cpu_time,memory_usage, total_scheduled_time, total_elapsed_time, endpoint_id, last_request_start_time, last_request_end_time, reads, writes, logical_reads, is_user_process, text_size, language, original_login_name, last_successful_logon, last_unsuccessful_logon, and unsuccessful_logons.
Using the login trigger, you can easily limit user access depending on login attempts, applications used, etc. It can also be used to provide login auditing if the session could be high-risk (e.g., unsuccessful login attempts). You can verify the trigger's successful creation in the server trigger listing pictured here: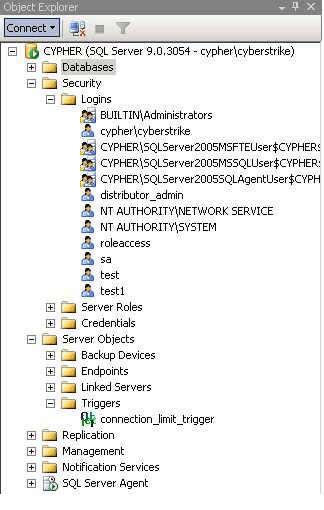 DDL activity monitoring
The login trigger is a good example of a Data Definition Language (DDL) trigger. Most of us are used to Data Modification Language (DML) triggers, which are used to work with insert, update and delete activities. DDL triggers are designed to monitor data definition events such as keywords create, alter and drop. You want to use these triggers to:
Prevent and/or record attempted changes to database schemas
Start an activity when a data schema changes occur, such as emailing an administrator or logging to a table
This DDL trigger will disable any drop_table or alter_table operations and must be disabled before an activity can take place:
 CREATE TRIGGER safety ON DATABASE FOR DROP_TABLE, ALTER_TABLE AS PRINT 'You must disable Trigger "safety" to drop or alter tables!' ROLLBACK ;

A DDL trigger can record the specific T-SQL logic used by running the EventData function. The EventData function basically returns XML data that contains event data for the specific event that fired the DDL. XQUERY can be used to return the specific XML data that is needed. This returns the T-SQL command running SELECT EVENTDATA().value('(/EVENT_INSTANCE/TSQLCommand/CommandText)[1]','nvarchar(max)') for a specific create_table DDL event.
DDL triggers can fire on many DDL events, review the topic DDL Events for Use with DLL Triggers to determine what events you can monitor and which events are "nice to have" vs "essential."
DDL events with database scope
CREATE_APPLICATION_ROLE
(Applies to CREATE APPLICATION ROLE statement and sp_addapprole. If a new schema is created, this event also triggers a CREATE_SCHEMA event.)
ALTER_APPLICATION_ROLE
(Applies to ALTER APPLICATION ROLE statements and sp_approlepassword)
DROP_APPLICATION_ROLE
(Applies to DROP APPLICATION ROLE statement and sp_dropapprole.)
CREATE_ASSEMBLY
ALTER_ASSEMBLY
DROP_ASSEMBLY
ALTER_AUTHORIZATION_DATABASE
(Applies to ALTER AUTHORIZATION statement when ON DATABASE is specified, and sp_changedbowner.)
CREATE_CERTIFICATE
ALTER_CERTIFICATE
DROP_CERTIFICATE
CREATE_CONTRACT
DROP_CONTRACT
GRANT_DATABASE
DENY_DATABASE
REVOKE_DATABASE
CREATE_EVENT_NOTIFICATION
DROP_EVENT_NOTIFICATION
CREATE_FUNCTION
ALTER_FUNCTION
DROP_FUNCTION
CREATE_INDEX
ALTER_INDEX
DROP_INDEX
CREATE_MESSAGE_TYPE
ALTER_MESSAGE_TYPE
DROP_MESSAGE_TYPE
CREATE_PARTITION_FUNCTION
ALTER_PARTITION_FUNCTION
DROP_PARTITION_FUNCTION
CREATE_PARTITION_SCHEME
ALTER_PARTITION_SCHEME
DROP_PARTITION_SCHEME
CREATE_PROCEDURE
ALTER_PROCEDURE
DROP_PROCEDURE
CREATE_QUEUE
ALTER_QUEUE
DROP_QUEUE
CREATE_REMOTE_SERVICE_BINDING
ALTER_REMOTE_SERVICE_BINDING
DROP_REMOTE_SERVICE_BINDING
CREATE_ROLE
(Applies to CREATE ROLE statement, sp_addrole, and sp_addgroup.)
ALTER_ROLE
DROP_ROLE
(Applies to DROP ROLE statement, sp_droprole, and sp_dropgroup.)
CREATE_ROUTE
ALTER_ROUTE
DROP_ROUTE
CREATE_SCHEMA
(Applies to CREATE SCHEMA statement, sp_addrole, sp_adduser, sp_addgroup, and sp_grantdbaccess.)
ALTER_SCHEMA
(Applies to ALTER SCHEMA statement and sp_changeobjectowner.)
DROP_SCHEMA
CREATE_SERVICE
ALTER_SERVICE
DROP_SERVICE
CREATE_STATISTICS
DROP_STATISTICS
UPDATE_STATISTICS
CREATE_SYNONYM
DROP_SYNONYM
CREATE_TABLE
ALTER_TABLE
DROP_TABLE
CREATE_TRIGGER
ALTER_TRIGGER
DROP_TRIGGER
CREATE_TYPE
(Applies to CREATE TYPE statement and sp_addtype.)
DROP_TYPE
(Applies to DROP TYPE statement and sp_droptype.)
CREATE_USER
(Applies to CREATE USER statement, sp_adduser, and sp_grantdbaccess.)
ALTER_USER
DROP_USER
(Applies to DROP USER statement, sp_dropuser, and sp_revokedbaccess.)
CREATE_VIEW
ALTER_VIEW
DROP_VIEW
CREATE_XML_SCHEMA_COLLECTION
ALTER_XML_SCHEMA_COLLECTION
DROP_XML_SCHEMA_COLLECTION
DDL events with server scope
ALTER_AUTHORIZATION_SERVER
CREATE_DATABASE
ALTER_DATABASE
DROP_DATABASE
CREATE_ENDPOINT
ALTER_ENDPOINT
DROP_ENDPOINT
CREATE_LOGIN
(Applies to CREATE LOGIN statement, sp_addlogin, sp_grantlogin, xp_grantlogin, and sp_denylogin when used on a nonexistent login that must be implicitly created.)
ALTER_LOGIN
(Applies to ALTER LOGIN statement, sp_defaultdb, sp_defaultlanguage, sp_password, and sp_change_users_login when Auto_Fix is specified.)
DROP_LOGIN
(Applies to DROP LOGIN statement, sp_droplogin, sp_revokelogin, and xp_revokelogin.)
GRANT_SERVER
DENY_SERVER
REVOKE_SERVER
We have looked at how to setup DDL login triggers to monitor user logins, record them and deny them if necessary. I have also touched on DDL triggers that can be used to monitor, record and deny schema and/or permission changes as they occur on your server. This should give you a good starting point to exploring this area of functionality and create a more secure environment on your SQL Server.
Was this tip useful? Do you want to get more tips like this, or get more information on this topic? Email the editors and let us know.
ABOUT THE AUTHOR

Matthew Schroeder is a senior software engineer who works on SQL Server database systems ranging in size from 2 GB to 3+ TB, with between 2k and 40+k trans/sec. He specializes in OLTP/OLAP DBMS systems as well as highly scalable processing systems written in .NET. Matthew is a Microsoft certified MCITP, Database Developer, has a master's degree in computer science and more than 12 years of experience in SQL Server/Oracle. He can be reached at [email protected]