buchachon - Fotolia
Evaluate
Weigh the pros and cons of technologies, products and projects you are considering.
Capitalize on mobility in Microsoft SQL Server Reporting Services 2016
SQL Server Reporting Services has gotten a face-lift over the past few years. Read on to take advantage of what's new.
SQL Server Reporting Services has a number of new features to make data in SQL Server 2016 easier to visualize, and in a variety of ways.
Reporting Services in SQL Server 2016 now includes mobile-friendly reports and SharePoint integrated mode, which has been updated with an HTML5 rendering engine. The web portal has also been redesigned and renamed from Report Manager to the Reporting Services Web Portal.
Reporting Services web portal updates
In the previous version of the portal, it was possible to change the site name, but SQL Server Reporting Services 2016 allows for full branding of the site. This means you can add a logo and change the site's colors through the use of a branding package.
The portal also allows for the creation of key performance indicators (KPIs), which can be placed within specific folders within the portal. The advantage of doing this is that it makes KPIs highly visible, and because you can specify a folder in which to store a KPI, you can create KPIs that are relevant to the reports within a folder. You can see the option to create folders and KPIs in Figure A.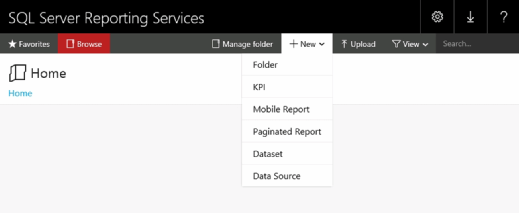 SSRS mobile reports
Another feature that is new to SQL Server Reporting Services (SSRS) is the ability to create mobile reports through the Mobile Report Publisher. Mobile reports -- born of Microsoft's Datazen Software acquisition in 2015 -- are essentially dashboard views that are optimized for use on mobile devices. You can see an option to create a mobile report in the previous figure.
As you can see below, in Figure B, the Mobile Report Publisher allows you to create full-blown business dashboards, using a drag-and-drop interface. Simply select the gauges that you want to use, and then link those gauges to your data. Once created, mobile reports can be viewed through a browser, or through Microsoft's Power BI mobile app.
Reports and visualization tools
Over the years, SSRS has gained a reputation for being oriented toward developers. While Microsoft has made it possible to use Visual Studio to build reporting capabilities into applications, Microsoft also offers tools that can create reports without writing any code. Some of these tools are included with Reporting Services, while others are downloadable.
One example is the Report Builder, which you can see below, in Figure C. The Report Builder is a GUI-based report authoring tool. This tool is designed to help admins display SQL Server information in visual reports that contain a variety of design elements, such as charts and maps.
Microsoft also released updates to Report Builder and SQL Server Data Tools -- Release Candidate in March, allowing users to create native data analysis expression (DAX) queries against supported SQL Server Analysis Services tabular data models. The query designer can be used to drag and drop fields, and a DAX query can be generated automatically, rather than writing it manually.
You can download the SQL Server 2016 version of Report Builder as long as you have Windows Server 2008 R2 or later, Windows 7 or later, Microsoft.Net Framework 4.5, 80 MB of available hard disk space and 512 MB of RAM.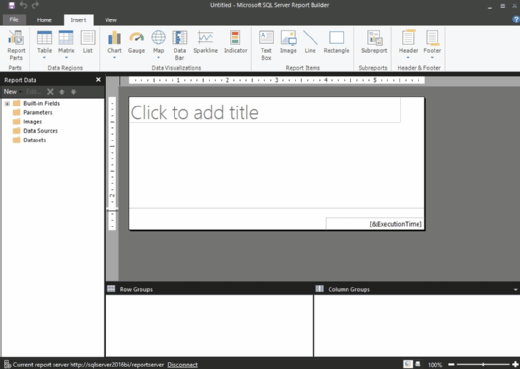 SQL Server Reporting Services 2016 also integrates with SharePoint 2013 and SharePoint 2016 to expose SQL Server data through Microsoft's collaboration and document management platform. The most common way to expose Reporting Services through SharePoint is to use SharePoint integrated mode.
Another option is partial integration, which is based on the use of web parts. It is also possible to use a native mode instance, which is necessary for Power BI integration; parameter customization; and a few other features.
Power BI reports in SQL Server Reporting Services are only available as a Technical Preview. Beyond the Technical Preview phase, Microsoft will add support for custom visuals, additional data connectors, cached data and scheduled data refresh. Power BI mobile apps will allow users to view Power BI reports stored in SSRS 2016.
A production-ready version of Power BI in SSRS is expected to be available mid-2017, according to Microsoft.
Dig Deeper on Microsoft SQL Server Reporting Services (SSRS)