SQL Kilt Day at PASS Summit 2011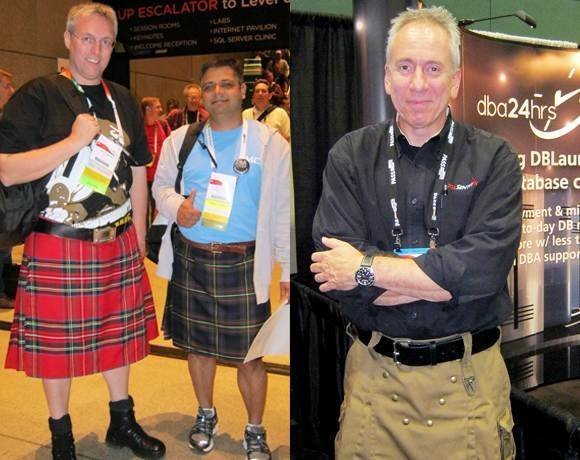 Source:
Jason Sparapani/TechTarget
LEFT: Database administrators Johan Bijnens, who works for stainless steel producer Aperam in Genk, Belgium, and Amit Singh, with investment management firm Bridgewater Associates in Westport, Conn., show off their kilts at PASS Summit 2011, the annual conference of the Professional Association for SQL Server, on SQL Kilt Day. Dozens of men wore the Scottish garb to show solidarity with the Women in Technology (WIT) group, which encourages young women to study science and technology. It was a long day for Bijnens and Singh, who didn't get the hang of wearing the garments and looked forward to winding down at a reception at GameWorks, a video arcade near the Washington State Convention Center in Seattle, where the conference was held. "It's awkward," Singh said. "We are both going to change for the party." Bijnens nodded. "We're not used to the wind."
RIGHT: Nick Harshbarger, vice president of sales and marketing at SQL Sentry, poses in his kilt at the SQL Sentry booth at the conference. Harshbarger and his colleagues at the North Carolina-based software company sported kilts at WIT's panel luncheon, held each year at the conference.
View All Photo Stories