SQL Kilt Day at PASS Summit 2011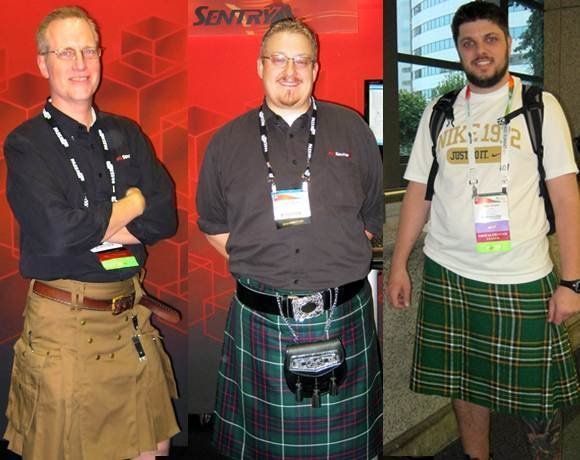 Source:
Jason Sparapani/TechTarget
LEFT: Peter Shire, director of partner relationships at North Carolina-based SQL Sentry, shows off his kilt at the software company's booth at PASS Summit 2011 in Seattle. SQL Sentry is the first company with a presence at the Professional Association for SQL Server's annual conference to send its entire delegation dressed in kilts, which it did to show support for the PASS Women in Technology group, which spreads awareness about the low numbers of women in science and technology. Shire said the company got a lot of positive feedback on the garments and that he was pretty comfortable wearing one. "Except when you sit. You kind of have to know how to sit."
CENTER: Steven Wright, director of engineering at SQL Sentry, wears the official tartan of the clan MacIntyre at the company's booth. Wright, whose family is Scottish, bought his kilt long before the PASS tradition got under way and dons it each year on National Tartan Day on April 6.
LEFT: Diego Nogare, a database developer with SQL Server training company SolidQ in Sao Paulo, Brazil, bought a kilt on eBay and had it sent to his hotel in Seattle. "Last year I heard some things about SQL Kilt Day and I made a joke with my friends," Nogare said. "'I will wear a kilt. I will do it!' " To prove it, Nogare used social media site Twitter to send his buddies a picture of himself in a kilt.
View All Photo Stories