Fotolia
News
Stay informed about the latest enterprise technology news and product updates.
Enterprise Power BI platform advances with SSRS, 'dataflows'
Microsoft embeds its SSRS reporting software and more-advanced data preparation tools in Power BI, part of a plan to blend self-service and enterprise BI for users.
SEATTLE -- Microsoft added new data preparation features and traditional reporting capabilities to Power BI, expanding...
Continue Reading This Article
Enjoy this article as well as all of our content, including E-Guides, news, tips and more.
its push to turn the self-service software into a full-fledged enterprise BI platform.
To support enterprise Power BI processes, users preparing data for analysis can now create "dataflows" that can be reused in reports and dashboards and joined together for complex data transformations. Also, SQL Server Reporting Services (SSRS), Microsoft's enterprise reporting tool, has been incorporated into Power BI, which lets users generate both static SSRS reports and interactive Power BI ones.
The enterprise Power BI plan, first laid out last July, will also expose core pieces of Microsoft's SQL Server Analysis Services (SSAS) software to users for semantic modeling and application lifecycle management.
In addition, Microsoft plans to embed AI and augmented analytics functionality in Power BI to help guide users. And integration with Azure Machine Learning and the Spark-based Azure Databricks will enable advanced analytics against Power BI data sets stored in Azure Data Lake repositories.
Patience needed on new Power BI features
All of that won't happen right away, particularly for production uses. SSRS and the dataflows technology are available only in public-preview mode for now, and other features will become available in stages.
For example, while some SSAS elements are due to be turned on in the next month or two, it likely will take six to nine months to reach full parity between stand-alone SSAS and what's in Power BI, said Arun Ulag, Microsoft's general manager of Power BI engineering, in an interview at PASS Summit 2018.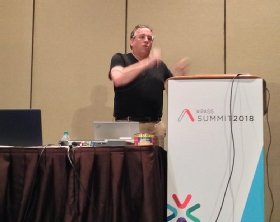 Nonetheless, users gave initial approval to Microsoft's plan to combine self-service and enterprise BI tools in Power BI.
Byron Lindsey, a database administrator at the Washington State Department of Natural Resources in Olympia, currently uses Power BI on his own to help monitor the performance of SQL Server databases. But after Microsoft officials demoed the enterprise Power BI features in a conference session, Lindsey said he plans to suggest a wider deployment of the software at the agency.
"This is top-notch stuff," Lindsey said in an interview. "I'm in IT, but I know the business folks would have loved to see this. They would have been screaming to get it out to them."
Static reports still have their place
Microsoft already lets users set up Power BI reports with SSRS through its Power BI Report Server software. But the ability to use SSRS to create standard paginated reports in Power BI is a big addition, said Ryan Wade, a senior information management consultant at health insurer Anthem Inc. in Indianapolis.
Static reports are still common in organizations, according to Wade, who also heads analytics consultancy Diesel Analytics LLC in Indianapolis. For example, managers at Anthem use SSRS reports to distribute lists of operational tasks, Wade said after taking part in a panel discussion on BI and data visualization best practices.
Until now, users couldn't set up, distribute or access such reports in Power BI. But with SSRS incorporated into Power BI, "you won't need to go to some SSRS repository to get those reports," Wade said. "You can do everything [in Power BI] now."
I know the business folks would have loved to see this. They would have been screaming to get it out to them.

Byron LindseyDBA, Washington State Department of Natural Resources
Wade said he's "very bullish" on Power BI overall. The first version, released in 2015, "had a lot of kinks," but Microsoft has ironed things out since then, he noted. And he applauded the vendor's vision for the software, including the enterprise Power BI strategy.
"You can say that in this situation, Tableau is better, or that in this situation, Qlik is better," Wade said. "But the way that Power BI integrates into the Microsoft ecosystem makes it second-to-none for me."
The planned additions to Power BI will help make it a more complete BI platform, said David Menninger, an analyst at Ventana Research in Bend, Ore. Even in the self-service BI era, with interactive BI dashboards at the heart of more and more applications, less glamorous features like reporting and data modeling remain important components for users, Menninger said in an interview at the conference.
"People think reporting is dead, but it's not dead," Menninger said. A lot of information is still packaged in static reports and distributed on a scheduled basis to large numbers of business managers and other users "who just look at the data -- they don't interact with it," he added.
A Facebook-like user experience
The enterprise Power BI strategy is designed to give data analysts and business users who work with the technology a user experience akin to that of a social network, according to Amir Netz, a Microsoft technical fellow and chief architect of the company's BI products.
"Our model is Facebook," Netz said during a roundtable Q&A with reporters and analysts. "You log in to a single server, you get your content there and you can share content with other users."
The new dataflows functionality expands on Power Query, Microsoft's existing self-service data preparation tool.
Data transformations built with Power Query can only be saved as Power BI Desktop files. Dataflows, on the other hand, can be stored in Azure Data Lake, enabling data analysts to collaborate on their development and reuse transformations created by others, Netz said in the demo session at PASS Summit, which was organized by the Professional Association for SQL Server user group.
SSAS, Microsoft's online analytical processing (OLAP) engine, has always undergirded Power BI, "but we've never exposed its full power until now," Netz said. The SSAS features due to be added to Power BI include the ability to build multidimensional OLAP cubes for analysis and support for the XML for Analysis protocol, which would enable users of rival BI tools that support XMLA to tap into Power BI to drive analytics applications.
Not everyone is fully convinced about the wisdom of that part of the enterprise Power BI initiative.
Niko Neugebauer, an independent software designer and blogger based in Lisbon, Portugal, said in an interview that he thinks Microsoft's sales reps "will tell customers they don't need SSAS anymore -- that they can do it all in Power BI now." That likely won't be the case for many enterprise users, he added.
Dig Deeper on SQL Server Business Intelligence Strategies