Rawpixel - Fotolia
News
Stay informed about the latest enterprise technology news and product updates.
Microsoft Azure SQL Database nears parity with SQL Server
Microsoft is adding functionality to Azure SQL Database to enable users to migrate more SQL Server applications to the cloud platform and run bigger databases on it.
SEATTLE -- After a two-year development effort to address its technical limitations, Microsoft Azure SQL Database...
Continue Reading This Article
Enjoy this article as well as all of our content, including E-Guides, news, tips and more.
is finally poised to become a more viable alternative to on-premises SQL Server systems for users who want to shift database applications to the cloud.
Microsoft's R&D work is culminating in a flurry of features and product offerings. For example, the vendor on Dec. 1 plans to launch a high-end version of its Azure SQL Database Managed Instance cloud platform for business applications with heavy-duty I/O requirements. Managed Instance is an implementation of Microsoft Azure SQL Database that's almost functionally equivalent to SQL Server, according to Microsoft, which released a general-purpose version of the service at the start of October.
At PASS Summit 2018, Microsoft also made available a public preview of its Machine Learning Services software running in the core Azure SQL Database platform. That follows preview releases in October of two other new technologies: a Hyperscale service tier that eliminates Azure SQL Database's 4 TB limit on database size, and an Accelerated Database Recovery feature built to speed up the process of recovering databases after a system failure.
Hyperscale supports databases with up to 100 TB of data -- an increase that was welcome news to Azure SQL Database user Mark Freeman, a senior database administrator at tax, audit and management consulting services company BDO Global.
"Right now, we're limited to 4 TB databases, and they just kind of blew the roof off of that," Freeman said at the conference.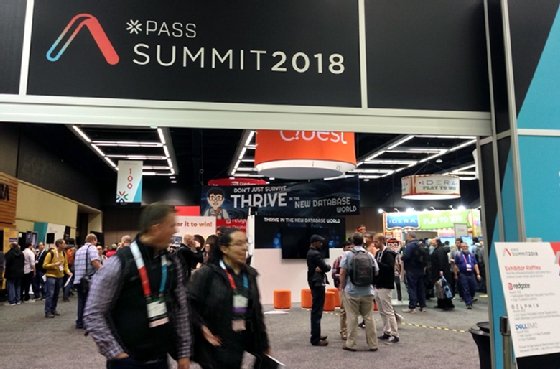 Separation policy on Azure databases
Brussels-based BDO runs hundreds of databases on Microsoft Azure SQL Database, said Freeman, who works at the company's office in Columbus, Ohio. But the IT team had to split up larger databases because of the PaaS technology's previous size restriction, he added. As a result, operational data for individual countries can be spread across as many as seven separate databases, according to Freeman.
Right now, we're limited to 4 TB databases, and they just kind of blew the roof off of that.

Mark Freemansenior DBA, BDO Global
"Now we can put it all together in one place without having to worry about recovering all of the databases," he said.
Azure SQL Database also may now be able to handle older applications that BDO runs on Microsoft's SQL Server on Azure Virtual Machines platform because of their size, Freeman said. The latter technology is cloud-based, too, but it's an IaaS offering that requires database administrators (DBAs) to handle configuration, patching and other management tasks that Azure SQL Database automates.
Until now, DBAs looking to migrate existing applications to the cloud typically had to use SQL Server on Azure Virtual Machines. Microsoft Azure SQL Database was primarily geared to run new cloud-native applications due to the database size limitation and its lack of support for some key SQL Server features, such as the SQL Server Agent job scheduler. That dampened its appeal to the installed base.
"We knew there were some challenges with Azure SQL Database," said Rohan Kumar, corporate vice president of engineering for Azure data services and SQL Server at Microsoft.
Speaking in the opening keynote session at PASS Summit 2018, Kumar added that Azure SQL Database Managed Instance aims to reduce the "friction" on cloud migrations that existing users encountered. SQL Server applications can be moved to a Managed Instance environment without any changes, he said. And the high-end Managed Instance Business Critical version will enable users "to run their most mission-critical SQL Server workloads in Azure," Kumar claimed.
A familiar feel for SQL Server users
The Managed Instance technology is still a work in progress, said Denny Cherry, founder and principal consultant at Denny Cherry & Associates Consulting in Oceanside, Calif. But in an interview at the conference, Cherry said he expects user demand for Managed Instance deployments to increase once the Business Critical service tier is available.
"It's kind of the SQL Server you know," said Mike Walsh, president of Straight Path IT Solutions, a SQL Server consulting services company in Milton, N.H.
The Managed Instance implementation of Microsoft Azure SQL Database can be pricey, Walsh noted during a conference session. On Microsoft's website, he set up a sample configuration with a compute cost of $150,000 per month for the maximum number of 80 vCore logical CPUs. But users can get discounts of up to 55% if they convert an existing SQL Server license to the cloud system, Walsh said.
Beautycounter, a company that makes skin care products and cosmetics for women and families, runs SQL Server on the AWS cloud instead of Azure. In the past, the Amazon Relational Database Service (RDS) for SQL Server offered more functionality and options than Microsoft Azure SQL Database did, said Steve Rezhener, a database engineer at Beautycounter, which is based in Santa Monica, Calif., and formally known as Counter Brands LLC.
Azure SQL Database Managed Instance doesn't fully change that, Rezhener said in an interview at the conference. "But at least the features are on par with RDS," he added. "It looks like it's on-premises SQL Server."
At PASS Summit 2018, the annual conference of the Professional Association for SQL Server user group, Microsoft also launched the second release of SQL Server 2019 under its Community Technology Preview program. CTP 2.1 adds the ability to run R and Python applications in the big data clusters that SQL Server 2019 supports, plus other new features. Microsoft's goal is to release a preview every month, Kumar said.
Dig Deeper on SQL Server Migration Strategies and Planning