News
Stay informed about the latest enterprise technology news and product updates.
SQL Server Reporting Services 2008 offers faster speeds, new variations
Get the inside scoop on Reporting Services 2008 with Michael Lisin and Jim Joseph, co-authors of the new book, "Microsoft SQL Server 2008 Reporting Services Unleashed."
Working with SQL Server Reporting Services -- or any BI platform -- can be a daunting task, even for those already familiar with the technology. We spoke recently with Microsoft's Michael Lisin and Jim Joseph, co-authors of the new book Microsoft SQL Server 2008 Reporting Services Unleashed to get some insight into what Reporting Services 2008 really has to offer.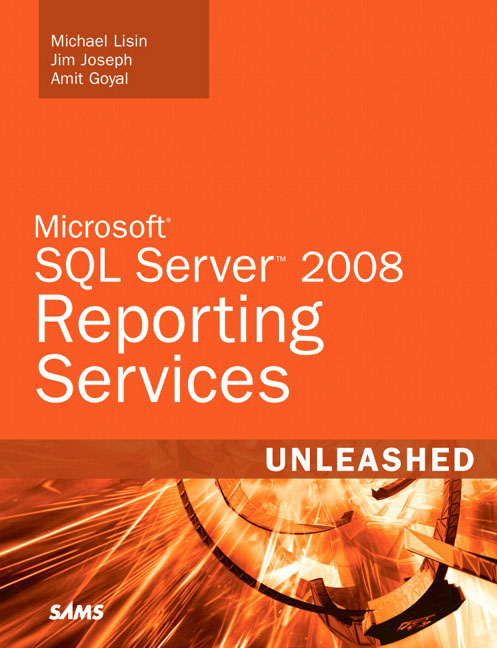 Lisin, lead author and a 15-year industry veteran, described the book itself as "a relatively compact reference to Reporting Services" that covers as much ground as possible, focusing on the information that should be most useful to developers.
In the following interview, Lisin and Joseph, an independent consultant and SSRS user since the first beta release, offer their thoughts on the new book, SharePoint integration, SQL Server 2008 R2 and more.
Which audience is the book geared for?
Jim Joseph: This book is geared towards developers and know-hows.
It's not really an end user kind of book. We do feature a few end user chapters -- mainly in the introduction -- but that's more of a "here's an introduction to the product and here's what it can do".
But most of the book is geared towards developers -- people who develop with the product every day.
Some chapters are geared towards administrators as well. We go through chapters on set up and configuration and stuff like that. A large part of the SharePoint stuff is all administration and set up.
What are some of the key improvements to Reporting Services in SQL Server 2008 that you think people would find most interesting?
Joseph: Where do you start!
Mostly, take a stopwatch and you'll see the number one improvement. If you've got fairly large reports, you're going to see the improvement right away. A thousand page report that would probably, in [SQL Server] 2005, run the server out of memory, in 2008 it has no problem throwing her out.
Apart from that, the Tablix [data region] also introduces a lot of different variations. It's a little difficult to get your hands around at first, especially with the different groupings, but once you see what it can do, it's really, nifty. A lot of the things you couldn't do, or you wished you could do, where you tried to hack around by embedding tables inside a list or something like that -- you have no problems doing that with the Tablix.
Michael Lisin: For me, the most important improvements are that it's faster, it provides better concurrence - concurrence means you can have more users - and it's easier to manage.
What this means is that you can install [Reporting Services 2008] on your old hardware and it will provide better performance and better concurrence for your users; so you don't necessarily have to upgrade hardware if your workload increases. It is also easier to manage and it costs less to operate.
And I like the visualization in the product – to me a picture is worth a thousand words. The charts are very much improved. There are new chart types including candlestick, stock, ETI and financial analysis in stock graphs - that's a great improvement - and also trend lines and what are just trend lines including moving averages that you can add on top of data in the chart.
Another visual element that was added to 2008 is gauges, and that allows somebody to see KPI-related information, so you can see if there is a traffic light or a gauge showing what you are doing in relation to preset marks, and upgrade for dashboard type of reports where you can quickly see how your business is doing – if it's doing well or not – and again this helps to make decisions.
The last visual improvement that I like is an improvement to text boxes where you can now incorporate HTML in your reports, which simplifies a lot of things in terms of adding color or formatting or any other rich text capabilities.
Joseph: The other thing is you can have multiple placeholders inside of a text box. So before with Reporting Services if you had one blurb – for example if you put in to the text box something like "the quick brown fox comes over the lazy dog" -- the entire sentence took the same formatting.
Now if you put one text box, you can have multiple placeholders where you could say color or number and then the text would be a different font and a different color. Before you had to try to squeeze that in with a rectangle and possibly two text boxes and it would get really messy. With the placeholder function, it's 10,000 times nicer.
What can you tell us about how Reporting Services in 2008 integrates with Microsoft SharePoint?
Joseph: If you didn't have SharePoint, you had the Report Manager as a primary to manage SSRS.
Well instead, SharePoint is basically now built into Reporting Services. So if you install Reporting Services with SharePoint integration mode turned on, it builds itself into SharePoint. It restores its contents and new SharePoint content databases and everything.
Lisin: It's a much smoother integration and it's a lot easier to configure than it used to be.
SQL Server 2008 R2 is coming soon. What can we expect from Reporting Services in R2?
Lisin: Well we should expect that -- as you always expect from new releases -- it's going to be much better, along with some of the bugs that are already fixed in Service Pack 2, plus we've seen some additional post-SP2 bugs fixed, so there are a fair amount of bug fixes that will be incorporated in [SQL Server 2008 R2].
There is an additional functionality from a visualization perspective that we should expect from R2. We have something called map and spatial visualization and its improved ability to visualize data on the map.
For example, you have geographic-related sales for your business and you can quickly show on the map where sales are happening and have highlights in places where you have best sales and [where you don't], and again, make decisions where to focus your attention or maybe diverse from certain areas.
[Microsoft] also acquired a company called 90 Degree Software Inc., and what's incorporated from that is called grab-and-go reporting. The idea behind grab-and-go reporting is to provide easy reliability of key report components.
So for example, if I develop a report and I have things like a chart or a combination of a chart and a table that somebody likes and they can call me and say, "Hey I really like your report, I would like to incorporate this element," I can give it to them so they can easily incorporate it basically in a new report as opposed to incorporating the whole report that I developed, which maybe has some irrelevant information.
I also expect Report Builder 3.0 to come out with some improvements in comparison to Report Builder 2.0. For example, things like better user experience, query cache and easy switching between layout and preview mode. Some improvements like that.
Microsoft SQL Server 2008 Reporting Services Unleashed is now available from Sams Publishing. Check out this free excerpt on installing Reporting Services 2008 now.