Manage
Learn to apply best practices and optimize your operations.
What's new in 2016's SQL Server AlwaysOn Availability Groups
Microsoft has added Distributed Transaction Coordinator support, optimized log transport and other features to AlwaysOn Availability Groups in SQL Server 2016.
SQL Server AlwaysOn Availability Groups were first introduced in 2012 and continue to receive enhancements as each new version of the database is released. For SQL Server 2016, Microsoft focused on addressing customer pain points with the high-availability and disaster recovery feature, rather than adding new functionality.
Here's a look at the upcoming enhancements to SQL Server AlwaysOn Availability Groups (AGs), based on the CTP 2.2 release of SQL Server 2016 and other materials available at the time of writing.
Failover on database health: Even though the focus of AG failover has been to provide redundancy at the database level, or group of related databases, the actual failover has been triggered by the health of the SQL Server instance as a whole. For example, a database in an availability group could be offline, perhaps due to a disk failure, and the rest of the instance is up and operational. With SQL Server 2014 and earlier implementations, failover would not be triggered because the overall health of the instance is still good. In SQL Server 2016, all databases within the affected AG would failover.
This behavior is optional. By default, it won't be enabled; the database administrator will need to enable the policy in order to have failover whenever a database becomes unhealthy.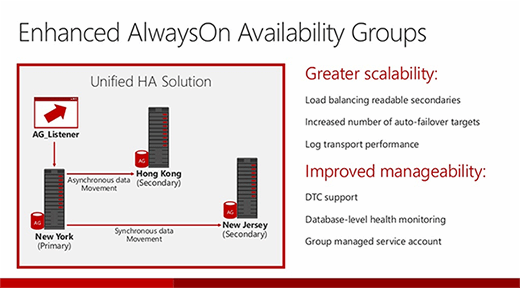 Distributed Transaction Coordinator support: One of the most requested enhancements for SQL Server AlwaysOn Availability Groups was to support the Distributed Transaction Coordinator (DTC) to manage transactions across multiple databases and instances. The DTC is not supported in availability groups in SQL Server 2014 and earlier, but some customers have decided to implement it in SQL Server 2014 even though there is a possibility of data loss.
Since the DTC is part of the Windows operating system, Microsoft made modifications to Windows Server 2016 and the API so that SQL Server 2016 can fully support it. Therefore, your SQL Server 2016 instance must reside on a Windows Server 2016 OS in order to have the DTC supported. This will also be supported on Windows Server 2012 Release 2 after rollup patch KB3090973 is installed. Personally, I have come across several customers who wanted the benefits of AG technology, but they couldn't move forward due to the lack of support for the DTC functionality.
Synchronous replicas: There are two types of secondary replicas within an AG -- asynchronous and synchronous. With synchronous replication, the transaction must first be recorded in the replica's log before it can send an acknowledgement to the primary replica. In order to have a secondary replica be an automatic failover target, it must be a synchronous replica. In SQL Server 2014, there can be three synchronous replicas, but only two of those can be designated as automatic failover targets. This means those two synchronous replicas would be the primary failover target for each other. In SQL Server 2016, all three synchronous replicas can now be designated as failover targets. As a result, if an issue occurred during or even after a failover, the third synchronous replica could also participate as a failover target.
Optimized log transport: Some customers have deployed AGs in a high-volume, highly transactional environment with solid-state disks. In these environments, it has been a challenge at times for the synchronous communication of the log data between replicas to keep up with the high-speed hardware. This can be problematic in this type of environment as time moves forward, and the latency from the synchronous commit process can start to affect the performance of the primary.
Microsoft has worked to gain better log-data throughput when utilizing SQL Server AlwaysOn AGs.
Microsoft has worked to streamline the pipeline between the synchronous replicas to gain better log-data throughput when utilizing SQL Server AlwaysOn Availability Groups. But if the throughput is faster, there will be that much more "redo" activity to be processed when replicating log records for database recovery purposes. So, Microsoft is also working on enabling the redo operation to become parallel in order to keep up. Instead of a percent-improvement goal over the throughput in SQL Server 2014 to SQL Server 2016, the goal is to be as close as possible to a non-AG standalone instance in terms of throughput.
Load balancing across readable secondary replicas: In SQL Server 2014, using the availability group listener mechanism to offload reads to the secondary replicas is supported via the read-only routing list. But the first replica in the list gets the most activity because it's the one that is always tried first.
In SQL Server 2016, the list of readable secondary replicas offers up connection information on a round robin basis. Also, each replica has its own read-only routing list so that read-only balancing via the availability group listener could route traffic to secondary replicas that may be more "local" to the current primary replica.
Group Managed Service Accounts: A group Managed Service Account (gMSA) is a type of security account released in Windows Server 2012 that SQL Server 2016 can fully leverage -- especially with AGs. The group account provides similar security capabilities as a local managed service account on an individual server, but it has a domain scope. When an SQL Server instance is installed with the default settings, a local service account is used to manage passwords for applications and processing services. If the instance is part of an AG, setting up and maintaining permissions to access common resources such as file shares often becomes complex as security provisions need to be established for the service account from each instance within the AG. A gMSA addresses this issue. In addition, some organizations use a regular domain user account to manage service passwords -- a practice that could be flagged in a security audit, as someone lacking authorization could log in with those credentials. Using a gMSA prevents that and also automatically manages password synchronization across all nodes.
AlwaysOn AGs versus a data warehouse
Workload separation is another facet of database management in which the combination of SQL Server 2016 and AlwaysOn Availability Groups can benefit users. In a traditional scenario, an organization runs a transactional system built for fast performance of mission-critical data processing. These are often referred to as operational systems, as they primarily support the operations of the organization. At some point down the line, this data is then transformed and loaded into another type of system that functions as a data warehouse, which is designed to support analysis of data. It's no surprise that these are often referred to as analytical systems. Traditionally, placing a data warehouse workload on top of an operational system led to poor performance across the board.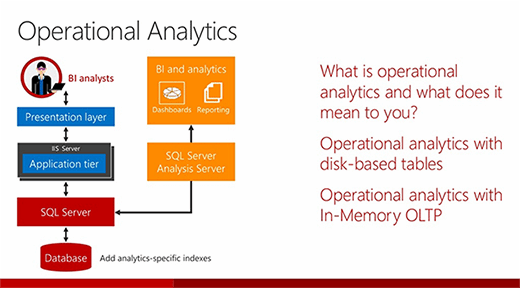 There is a change coming. Previously there were restrictions on the number and type of row and column store indexes for a table. With SQL Server 2016, a table with a traditional B-Tree row store index can also have a clustered column store index, which was not the case in earlier versions. That capability translates into the same data structures being able to efficiently support both operational and analytical workloads, or operational analytics. The new setup isn't a panacea, as there are still issues to be dealt with, but it enables another possibility for organizations looking to best manage their data and get the most out of it.
Although this isn't really an enhancement to SQL Server AlwaysOn Availability Groups, they do play a big part in enabling operational analytics. Separation of workloads is still preferred, even though the underlying data structures support both types. By using AGs, a data warehouse workload can be offloaded to a single readable secondary replica -- or even across multiple readable secondary replicas -- leaving the resources on the primary replica to efficiently support the mission-critical business process. Another added benefit is that there is very low latency on the data feeding the data warehouse, so that real-time analytics are a reality.
Overall, there isn't a really flashy new element to point to among the additions to AGs coming in SQL Server 2016. But the planned enhancements provide real value in terms of availability, compatibility, scalability and manageability. These are the types of enhancements that address real-world implementation issues discovered in production applications.
Dig Deeper on SQL Server High Availability, Scalability and Reliability