Manage
Learn to apply best practices and optimize your operations.
Setting job notifications
Learn about setting job notifications from within SQL Server in this excerpt from "SQL Server 2000 for experienced DBAs" by Brian Knight.
The following excerpt, courtesy of McGraw-Hill Osborne Media, is from Chapter 5 of the book "SQL Server 2000 for experienced DBAs" written by Brian Knight. Click for the complete book excerpt series or purchase the book.



---
Setting Job Notifications
You can have SQL Server notify you when a job completes. This is certainly a better alternative than going through the work involved in checking the system to see if a given job actually did run. This is one way to make system maintenance a bit easier.
Configure job notifications in the Job Properties dialog box under the Notifications tab (see Figure 5-11). You can specify notification methods and the conditions under which notifications are sent. Use the Write To Windows Application Event Log option to force a log entry when the job fails, succeeds, or completes. The Automatically Delete Job option is handy when you need to run a job to rebuild an index late at night during off-peak hours. The job runs and automatically cleans itself up.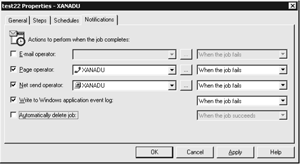 Figure 5-11 Select the conditions for job notifications

Click for the next excerpt in this series: Forecasting Growth
---
Click for the complete book excerpt series.
---
Dig Deeper on Microsoft SQL Server Performance Monitoring and Tuning