Evaluate
Weigh the pros and cons of technologies, products and projects you are considering.
SQLsafe 4.9
SQLsafe 4.9 is a high-performance backup and recovery solution that reduces database backup time and backup disk space requirements.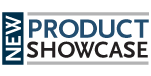 SQLsafe 4.9 is a high-performance backup and recovery solution that offers increased application and business availability for your critical SQL Server infrastructure.
Idera's SQLsafe 4.9 uses updated technologies and algorithms to reduce database backup time by up to 50% over native backups and reduce backup disk space requirements by up to 95%.
The product is equipped with IntelliCompress technology, which continually samples data contained on your server and chooses from among 20 different approaches the best compression method for your data.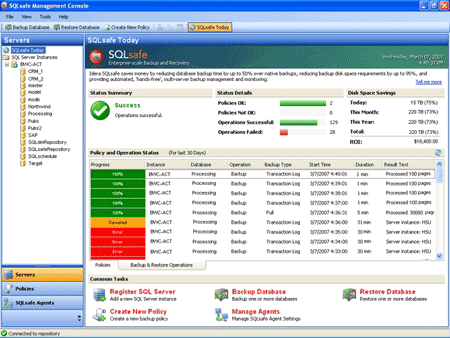 Figure 1: A screenshot of SQLsafe 4.9.
SQLsafe 4.9 also enables a complete automated backup of the entire SQL Server infrastructure while ensuring compliance with an organization's backup and recovery policies. It also eliminates risk and increases performance by running as a separate process outside of the SQL Server process space.
SQLsafe 4.9's features include:
Automatically groomed historical backup and restore data stored in the SQLsafe repository and enhanced repository performance for quicker status processing and reporting in large enterprise deployments.
Advanced compression, disk writing and multi-threading technologies that dramatically increase the speed of backup execution. Reducing backup time increases the available window for you to perform other critical SQL Server maintenance activities.
Compliance with corporate backup policies, which is insured by the offer of unique policy-based backup management. This enables DBAs to define and automate a backup schedule across multiple servers and databases.
IntelliRestore graphical point-in-time recovery, a new feature that allows DBAs to use a sliding time scale to select a recovery point. From there, SQLsafe automatically assembles all the backup components necessary to restore the database to the specified point in time. SQLsafe can also perform table level recovery from a SQLsafe backup file.
System requirements: Windows 2000 (SP3 and higher) to Windows 2008 or Windows Vista; Windows Server 2003 SP1 (x64, Itanium 2); Microsoft .NET 2.0; SQL Server 7.0 SP4, MSDE 2000 SP4, SQL Server 2000 SP4 (32- and 64-bit), SQL Server 2005 SP1 (32- and 64-bit), SQL Server 2005 Express, SQL Server 2008; TSM Client version 5.2.2 through 5.5, TSM Server version 5.2 and higher.
Pricing: $1,195 per SQL Server.
Dig Deeper on SQL Server Database Modeling and Design