Problem solve
Get help with specific problems with your technologies, process and projects.
Freebie: SQL Server Profiler
This handy free tool captures all transactions on a SQL Server.
You may already be working with the usual suspects for performance tuning tools, but are you using all the features available in each tool? The following is one of several must-have free tools, or go to the complete list of freebies.
To dive into greater detail related to SQL Server processing, the next logical tool is SQL Server Profiler. This tool captures all transactions on a SQL Server with the ability to filter by particular applications, host names, logins, etc. Execute Profiler for short periods of time (i.e. five to 15 minutes) and store the results in a log file, or better yet, store them in a table to query the results for statistics related to CPU, I/O and memory usage as well as overall process duration.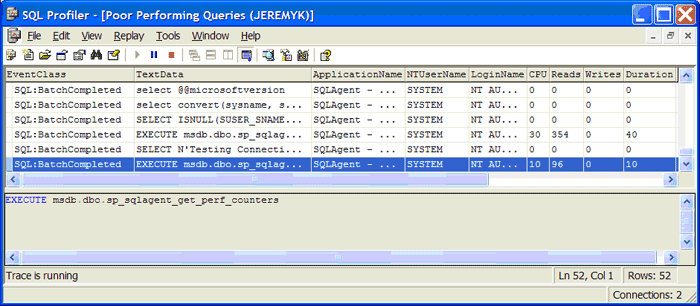 Stay tuned for more SQL Server Profiler information in the coming weeks related to setup, configuration and analysis.
Click for the next featured freebie: Enterprise Manager's Index Tuning Wizard
---
About the author: Jeremy Kadlec is the Principal Database Engineer at Edgewood Solutions, a technology services company delivering professional services and product solutions for Microsoft SQL Server. He has authored numerous articles and delivers frequent presentations at regional SQL Server Users Groups and nationally at SQL PASS. Jeremy is also the SearchSQLServer.com Performance Tuning expert. Ask him a question here.
Dig Deeper on Microsoft SQL Server Performance Monitoring and Tuning