polygraphus - Fotolia
Evaluate
Weigh the pros and cons of technologies, products and projects you are considering.
Common Data Service for Analytics eases Power BI integration
Integrating data into Power BI for analysis can be a challenge, but Microsoft's Common Data Service for Analytics technology is designed to simplify the process for users.
Although Power BI greatly simplifies data analysis and visualization for Microsoft users, it's often difficult...
Continue Reading This Article
Enjoy this article as well as all of our content, including E-Guides, news, tips and more.
to get the self-service BI software to work with all of the data sources analytics applications need. Thankfully, Microsoft is addressing this problem with its forthcoming Common Data Service for Analytics technology.
Due for a preview release in the second quarter of 2018, Common Data Service (CDS) for Analytics is a new feature that will be natively incorporated into Power BI to support the creation of internal repositories akin to a data warehouse or data lake. There are three primary things that CDS for Analytics -- as it's informally known -- will do to help boost the Power BI integration process.
First, the technology will make it a lot easier to pull data from business applications into Power BI for analysis. Microsoft plans to deliver prebuilt connectors that will enable Power BI to extract data from its own Dynamics 365 applications, plus Salesforce and other outside apps. Users will also be able to integrate their own data into Power BI through CDS for Analytics, according to Microsoft.
To further streamline the data integration work, CDS for Analytics will provide a standardized way to interact with data. By using what Microsoft describes as an evolution of its Power Query tool, IT professionals and data analysts will be able to populate, control and manipulate the data that needs to be analyzed in Power BI with little or no coding.
A common thread in Power BI data modeling
The second thing that Common Data Service for Analytics will do is make it a lot easier to model data for analysis. Linking Power BI to a data source is only the first step in analyzing the data that's available there. Next, users have to figure out how to model the data in order to derive business value from the information it contains.
Even though data modeling is often the hardest part of the Power BI integration process, Microsoft is taking steps to simplify things. The basic idea behind the improvements is that while organizations differ, they often want to analyze similar types of business data in marketing, sales, finance and other operations.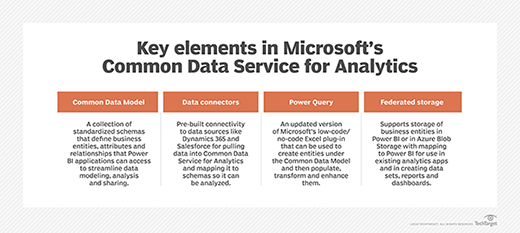 With that in mind, Microsoft has created the Common Data Model, which combines a set of standardized schemas for commonly used data objects and associated business activities with connectors that pull data into those schemas. For example, there are defined schemas for customer accounts, contacts, sales leads, products and purchase orders.
The schemas supported by CDS for Analytics are built on top of the Common Data Model. That approach makes the data being pulled into Power BI available to users in a consistent way, and it exposes the data that's most relevant to the particular BI and analytics tasks at hand.
Power BI integration via embedded analytics
The third way that Common Data Service for Analytics will aid in Power BI integration efforts is by embedding the BI software's data analysis and visualization capabilities in applications. Microsoft itself plans to offer a set of Power BI Insights apps with packaged analytics tailored for different business units; the first two will be aimed at sales departments and customer service operations.
It remains to be seen how many other vendors will decide to embrace Power BI in their applications, but Microsoft has created CDS for Analytics with extensibility in mind.
It also remains to be seen whether the new functionality will drive more customers to adopt Power BI. Microsoft is far from being the only provider of self-service BI software. In particular, Tableau and Qlik Sense are alternative technologies that many people consider to be more mature and feature-rich than Power BI. If CDS for Analytics lives up to Microsoft's hype, transitioning from those rival tools to Power BI may become even more appealing than it already is for Microsoft users.
Simple economics could play a role in that, too. Power BI Desktop, which enables users to create and publish reports, is free; Power BI Pro is $9.99 per user per month with added dashboard development and collaboration capabilities.
For enterprise deployments, Microsoft offers a capacity-based Power BI Premium subscription that also requires a Power BI Pro license for each user who publishes reports and shares dashboards. A sample configuration listed in an online pricing calculator with 1,000 Power BI Pro users and 4,000 dashboard and report consumers equaled out to just under $5 per user per month.
By comparison, Tableau's monthly subscription pricing is listed at $12, $35 or $70 per user depending on the level of functionality. Qlik offers the Desktop and Cloud Basic editions of Qlik Sense for free, but it charges $15 per user per month for the Cloud Business edition and an undisclosed amount for the on-premises Enterprise edition.
Microsoft recently posted an hour-long video presentation to show prospective customers how Common Data Service for Analytics will work. Only time will tell how well it works. However, if all goes according to plan, the technology's release will mark a major step forward for Power BI integration -- and for Power BI in general.
Dig Deeper on SQL Server Business Intelligence Strategies