A trigger (from the Dutch trekken, meaning to pull) is a lever which, when pulled by the finger, releases the hammer on a firearm. In a database, a trigger is a set of Structured Query Language (SQL) statements that automatically "fires off" an action when a specific operation, such as changing data in a table, occurs. A trigger consists of an event (an INSERT, DELETE, or UPDATE statement issued against an associated table) and an action (the related procedure). Triggers are used to preserve data integrity by checking on or changing data in a consistent manner.

Download this free guide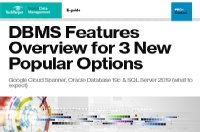 Free Guide: DBMS Features Overview for 3 New Popular Options
IT expert Michael Otey, explores 5 trends for SQL Server environments, what to expect in SQL Server 2019 and why it might be time to update SQL Server skills. Also, compare the key features of Google Cloud Spanner and Oracle Database 19c.
This was last updated in
September 2005
Continue Reading About trigger