1) In computer programming, a schema (pronounced SKEE-mah) is the organization or structure for a database. The activity of data modeling leads to a schema. (The plural form is schemata. The term is from a Greek word for "form" or "figure." Another word from the same source is "schematic.") The term is used in discussing both relational databases and object-oriented databases. The term sometimes seems to refer to a visualization of a structure and sometimes to a formal text-oriented description.
Two common types of database schemata are the star schema and the snowflake schema.
2) In another usage derived from mathematics, a schema is a formal expression of an inference rule for artificial intelligence (AI) computing. The expression is a generalized axiom in which specific values or cases are substituted for each symbol in the axiom to derive a specific inference.
Content Continues Below

Download this free guide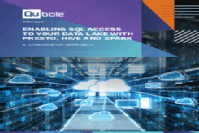 Free Resource: Hive vs. Spark vs. Presto
While SQL is the common langue of many data queries, not all engines that use SQL are the same—and their effectiveness changes based on your particular use case. So what engine is best for your business to build around? Compare Hive, Spark, and Presto to see which is best for you.
This was last updated in
September 2005
Continue Reading About schema
Dig Deeper on SQL Server Database Modeling and Design