Definition
initial extent
The initial extent is a set of contiguous blocks in a database segment that is automatically allocated when the segment is created. Any set of contiguous blocks allocated after the initial extent is called a next extent. The total number of extents that can be allocated in a database is limited by the amount of storage space available, or in some cases, by the program used.
The term extent is sometimes used in reference to any contiguous space (for example, a set of sectors) on a hard drive that is reserved for a particular file, folder, or application.
Content Continues Below

Download this free guide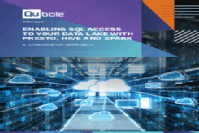 Free Resource: Hive vs. Spark vs. Presto
While SQL is the common langue of many data queries, not all engines that use SQL are the same—and their effectiveness changes based on your particular use case. So what engine is best for your business to build around? Compare Hive, Spark, and Presto to see which is best for you.
This was last updated in
September 2005
Dig Deeper on SQL Server Database Modeling and Design