A block is a contiguous set of bits or bytes that forms an identifiable unit of data. The term is used in database management, word processing, and network communication.
1) In some databases, a block is the smallest amount of data that a program can request. It is a multiple of an operating system block, which is the smallest amount of data that can be retrieved from storage or memory. Multiple blocks in a database comprise an extent.
Content Continues Below

Download this free guide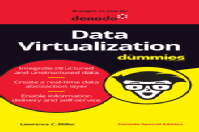 Free Instant Download: Data Virtualization for Dummies
In this 67-page e-book, you'll explore the challenges of data silos, data overload, and regulatory compliance, what data virtualization is and how it helps businesses, use cases, data virtualization in the cloud, and much more.
2) In word processing, a block is a contiguous set of characters. Often it consists of a phrase, a sentence, a paragraph, or a set of paragraphs that is selected by the user for copying/pasting, cutting, or moving. But a block can consist of any contiguous set of characters, whether or not it forms a logical unit of text.
3) In network communication, a block is a group of data bits or bytes that is transferred as a standard unit. The size (or length) of such a block depends on the communications protocol.
This was last updated in
September 2005
Dig Deeper on SQL Server Database Modeling and Design