Definition
Microsoft SQL Server Parallel Data Warehouse (SQL Server PDW)
Microsoft SQL Server Parallel Data Warehouse (SQL Server PDW) is a pre-built data warehouse appliance that includes Microsoft SQL Server database software, third-party server hardware and networking components.

Download this free guide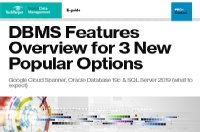 Free Guide: DBMS Features Overview for 3 New Popular Options
IT expert Michael Otey, explores 5 trends for SQL Server environments, what to expect in SQL Server 2019 and why it might be time to update SQL Server skills. Also, compare the key features of Google Cloud Spanner and Oracle Database 19c.
Parallel Data Warehouse has a massively parallel processing (MPP) architecture. As such, Microsoft has billed Parallel Data Warehouse as being well-tuned for big data processing.
Like other server appliances, one of the main features of Parallel Data Warehouse is that it is easier to set up when compared to buying commodity hardware and software and configuring them in house. There are currently two versions of Parallel Data Warehouse: one uses Hewlett-Packard servers and the other uses Dell hardware.
See also: data center in a box
Continue Reading About Microsoft SQL Server Parallel Data Warehouse (SQL Server PDW)