Ingres is a relational database management system (RDBMS) that evolved from a research project at the University of California at Berkeley in the 1970s. There are two different versions of Ingres: a public domain version, known as University Ingres or Berkeley Ingres; and a commercial version currently marketed by Computer Associates, and known as OpenIngres, CA-OpenIngres, or Ingres II.
The commercial version of Ingres II runs on the following operating systems: Windows NT, the majority of UNIX platforms, OpenVMS, and Linux. Like many of its RDBMS competitors, Ingres has begun to add object-oriented development features to address the growing paradigm shift in the RDBMS marketplace towards more object-oriented database management systems (OODBMSs).
Content Continues Below

Download this free guide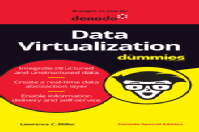 Free Instant Download: Data Virtualization for Dummies
In this 67-page e-book, you'll explore the challenges of data silos, data overload, and regulatory compliance, what data virtualization is and how it helps businesses, use cases, data virtualization in the cloud, and much more.
OpenIngres uses SQL and some forms of QUEL as its language for queries and database transactions. QUEL is a language developed for use with the original public domain version and still supported by it today.
This was last updated in
April 2005
Dig Deeper on Microsoft SQL Server Database Development