Definition
FileMaker (FMP)
FileMaker is a relational database application in which an individual may design -- and easily share on the Internet -- a database file by starting with a blank document or implementing ready-made and customizable templates. As of this writing, the software application's name is FileMaker and the company that owns the software is called Claris.
FileMaker is often used by businesses for tracking invoices, inventory, customers, events, work orders or resources. The database file is comprised of tables, fields, calculations, menu sets and layouts. Data is then entered into the specified fields and stored as records. The records can be searched, filtered and sorted; automated scripts can be run; data can be imported from other sources; and custom reports, charts and dashboards can be generated. FileMaker takes advantage of the drag and drop capabilities within a graphical user interface (GUI).
Content Continues Below

Download this free guide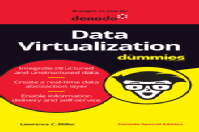 Free Instant Download: Data Virtualization for Dummies
In this 67-page e-book, you'll explore the challenges of data silos, data overload, and regulatory compliance, what data virtualization is and how it helps businesses, use cases, data virtualization in the cloud, and much more.
FileMaker product line


FileMaker Pro Advanced is the most recent release of the client application, written for versions of MacOS and Microsoft Windows.
FileMaker Go is an app for Apple iOS devices such as iPhones and iPads.
FileMaker WebDirect (previously Instant Web Publishing) or FileMaker Custom Web Publishing -- using PHP or XML -- can be implemented in order to provide web access to a database file.
FileMaker Server also runs on either macOS Server or Microsoft Windows Server and is used to host database files on-premise.
FileMaker Cloud for AWS (Amazon Web Services) is available for hosting databases in the cloud, but it does not support Custom Web Publishing. It runs on the Linux CentOS platform.
FileMaker Data API (application programming interface) is built on the REST (representational state transfer) architecture, allowing FileMaker to access external data systems or web services.
FileMaker workflow
An individual first creates the database file in FileMaker Pro Advanced by creating the tables, fields and layouts. Privilege sets must also be created which control what data end users are permitted to view, as well as whether or not they have various levels of rights to the data (such as add, edit, delete or read-only).
The database file is then published to FileMaker Server or FileMaker Cloud.
End users can then access the database's records using another version of FileMaker Pro Advanced, FileMaker Go, or a web browser when FileMaker WebDirect is deployed.
The advantage of FileMaker WebDirect is that the page is rendered in the browser exactly as it would appear in the layout within FileMaker Pro Advanced -- no knowledge of HTML is necessary -- and additional software (FileMaker Pro Advanced or FileMaker Go) doesn't need to be installed on additional devices. More customization is also possible for the web-based version if the developer knows how to code in PHP or XML.
FileMaker security features
Security within the FileMaker platform is handled multiple ways. Access privilege sets are tied to a specific database file and control the end user's interaction with the data. FileMaker also supports SSL (secure sockets layer) encryption, database encryption and external authentication through Active Directory, an LDAP server or OAuth 2.0 identity providers.
History of FileMaker
FileMaker was originally an MS-DOS program named Nutshell, developed by Nashoba Systems. It was then developed to run on the MacIntosh operating system, renamed FileMaker and later acquired by Apple Inc. through their subsidiary known as Claris Corporation. At Claris, it was added to a suite of applications such as MacWrite, MacDraw, MacPaint and HomePage. Eventually, only FileMaker remained, and the subsidiary was renamed FileMaker Inc. In August 2019, the company announced it was going to again rebrand itself as Claris International Inc. but it remains an Apple Inc. subsidiary.
This was last updated in
September 2019
Continue Reading About FileMaker (FMP)
Dig Deeper on SQL Server Business Intelligence (BI) and Data Warehousing