Q
Problem solve
Get help with specific problems with your technologies, process and projects.
Importing an Oracle text file into SQL Server 2000, part 1
I'm quite newbie in exploring the database technologies whether Oracle or MS SQL Server. I want to export Oracle 9i database to text file, then import it to MS SQL Server 2000. Is there any solution that will work for me? Do you have any suggestions?
Migrating data from Oracle to SQL Server has been a typical responsibility for DBAs and developers in organizations with a heterogeneous database environment. The process to migrate data from one database platform to another is called extraction, transformation and loading (ETL). The primary tool in SQL Server for ETL processes is Data Transformation Services (DTS). DTS is a free tool that has shipped with SQL Server since version 7.0. With SQL Server 2000, DTS offered a richer feature set and improved reliability (DTS Basics). With DTS the goal is to build DTS Packages with the DTS Designer, which is part of Enterprise Manager, that encapsulates all of the ETL logic not only from a graphical perspective, but also programmatically via a comprehensive object model (DTS Object Model Diagram).
Under your circumstances Microsoft has built the connectivity in an inherent manner between Oracle and SQL Server via a native OLE-DB driver. This means it is not necessary to have an intermediary step to export and import from a text file. As such, data can be directly migrated from Oracle to SQL Server via the DTS objects. In order to build a DTS Package to achieve this goal, three primary DTS objects are needed:
Connections –- Source and destination objects that incorporate all of the connectivity parameters

Default connections for SQL Server 2000 DTS

SQL Server
Microsoft Access 2000
Oracle
Paradox
DB2
DBase 5
Other ODBC-compliant database
Microsoft Excel 2000 worksheet
HTML file
Text file

For additional information visit DTS Connections.

Tasks -– A unit of work in the DTS Package where business logic is encapsulated

Tasks include:

Data Driven Query Task
Transform Data Task
ParallelDataPump Task Object
Copy SQL Server Objects Task
Execute SQL Task
Bulk Insert Task
Transfer Database Objects Tasks
ActiveX Script Task
Dynamic Properties Task
Execute Package Task
File Transfer Protocol Task
Execute Process Task
Send Mail Task
DTS Custom Task

For additional information visit DTS Tasks.

Workflows –- Logic between various tasks in the DTS Package outlining a subsequent action

Logical Operators

On Success (Green Line)
On Failure (Red Line)
On Completion (Blue Line)

For additional information visit DTS Package Workflow.
A simple DTS Package to truncate (delete) all of the SQL Server data, migrate data from Oracle to SQL and notify the DBA team on success or failure would look like the following in the DTS Designer: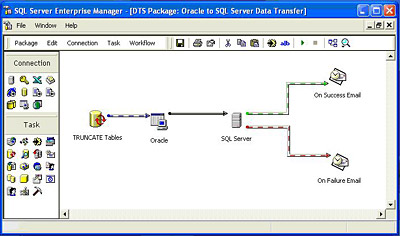 Figure 1 – Sample DTS Package to migrate data
This response is continued...
Dig Deeper on Microsoft SQL Server Installation
Have a question for an expert?
Please add a title for your question
Get answers from a TechTarget expert on whatever's puzzling you.