Problem solve
Get help with specific problems with your technologies, process and projects.
Targeting SQL Profiler to determine performance problems
Use SQL Profiler in your production environment to target poorly performing T-SQL commands in SQL Server 2000 and SQL 2005. Microsoft database expert Michelle Gutzait guides you through SQL Trace, from how to use trace definition through incorporating SSIS/DTS packages into the process. Locate problematic T-SQL commands and send the reports to your SQL Server development team.
Looking for something else?
If you are a database administrator, you probably wish you could keep track of the badly performing commands within SQL Server instances in order to analyze them, or even send them to the development teams on a regular basis.

Download this free guide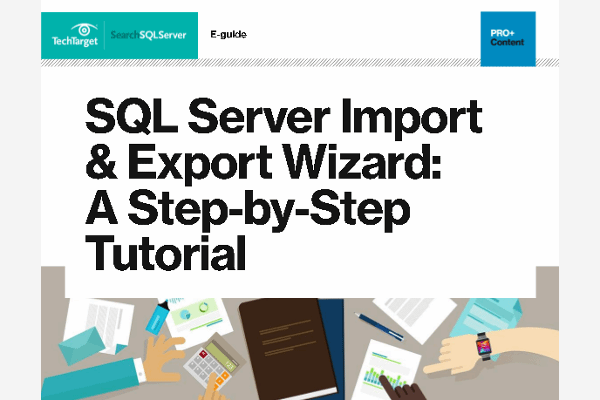 SQL Server Import & Export Wizard Step-By-Step Tutorial
In this expert-led tutorial, senior DBA and technical trainer Basit Farooq provides a step-by-step guide for using the SQL Server Import and Export Wizard to transfer data between SQL Server databases and Microsoft Excel worksheets.
By submitting your personal information, you agree that TechTarget and its partners may contact you regarding relevant content, products and special offers.
You also agree that your personal information may be transferred and processed in the United States, and that you have read and agree to the Terms of Use and the Privacy Policy.

Do these laments sound familiar?
"Our SQL Server environment reaches 100% CPU for more than 10 minutes every day and we have to restart the instance."
"Our users complain that the applications' performance degrades every day at lunch time."
"The new version of the application was deployed in production and suddenly we have performance problems."
This article explains how to use SQL Profiler and SQL Traces to determine application inefficiencies and how to assist development teams that capture them.
What should I trace?
If you have a lot of activity in your SQL Server instance, you should trace only T-SQL commands that use comparably more resources (CPU, IO, Duration). This way, you will end up with a list of just the badly performing commands. Your choice of filter threads will depend on your specific environments.
My advice is to run Profiler with initial threads of:

CPU > 500
Duration > 500 (half a second)
Reads > 10,000
Writes > 5000

Test how many commands you are getting with these filters and change the threads accordingly until you get at least one event traced in five minutes. Also, if you get too many rows, it will be difficult to analyze the output.

It might be necessary to adjust the threads later according to the results. For example, if the worst-performing commands were already tuned, you might want to capture commands using fewer resources than you did initially.

Save trace definition to a file:
It is so easy to save a trace definition. Just open SQL Profiler, choose the events, columns and filters and script trace, as described next.




Targeting SQL Profiler to determine performance problems
Home: Introduction
Step 1: Tracing statements in SQL Server 2000
Step 2: Tracing statements in SQL Server 2005
Step 3: How to use SQL Trace definition
Step 4: Script example for SQL Trace
Step 5: SQL Trace results in SQL Profiler

ABOUT THE AUTHOR:
Michelle Gutzait works as a senior databases consultant for ITERGY International Inc., an IT consulting firm specializing in the design, implementation, security and support of Microsoft products in the enterprise. Gutzait has been involved in IT for 20 years as a developer, business analyst and database consultant. For the last 10 years, she has worked exclusively with SQL Server. Her skills include database design, performance tuning, security, high availability, disaster recovery, very large databases, replication, T-SQL coding, DTS packages, administrative and infrastructure tools development, reporting services and more.
Copyright 2007 TechTarget
More on SearchSQLServer.com

Dig Deeper on Microsoft SQL Server Performance Monitoring and Tuning
PRO+
Content
Find more PRO+ content and other member only offers, here.