Step 3: Test your SQL Server consolidation
Once determining which databases go on each stack, watch data access and usage patterns so you can group databases on consolidated SQL Servers for optimal performance. Get help in this step excerpted from Chapter 2, 'Planning your SQL Server consolidation,' of our original expert e-book, "Consolidate SQL Servers for availability, scalability and cost savings."
Looking for something else?
Once you complete your analysis on the user databases, you must carefully determine which user database will be placed on which stack.
The following situations will force you to consolidate on different instances:
User databases with unreconcilable name conflicts
User databases that make heavy use of tempdb
User databases that come from SQL Servers that have non-standard collations
I provide a more complete list later in this chapter in the section entitled "Consolidating on single instances versus multiple instances."

In some cases you will be forced to consolidate on a SQL Server running the previous version(s), often called a version stack. These include situations where you have version dependencies or excessive use of SQL Full-Text Search.

Download this free guide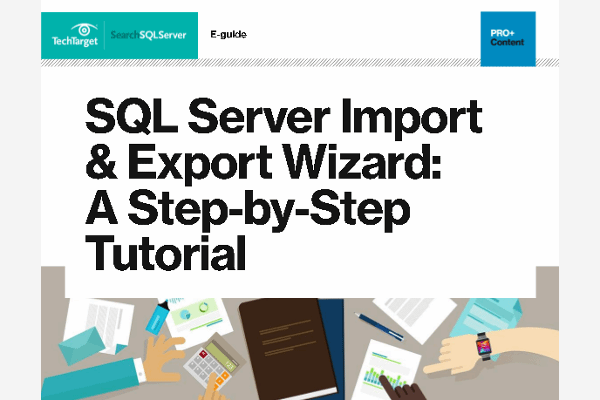 SQL Server Import & Export Wizard Step-By-Step Tutorial
In this expert-led tutorial, senior DBA and technical trainer Basit Farooq provides a step-by-step guide for using the SQL Server Import and Export Wizard to transfer data between SQL Server databases and Microsoft Excel worksheets.
By submitting your personal information, you agree that TechTarget and its partners may contact you regarding relevant content, products and special offers.
You also agree that your personal information may be transferred and processed in the United States, and that you have read and agree to the Terms of Use and the Privacy Policy.

Once you have determined which databases can be placed on which stack, carefully examine the data access and data usage patterns. This will help you group user databases on consolidated SQL Servers to provide optimal performance for that group. For example, place individual user databases with high loads on different stacks, then add user databases with lower loads to these stacks, and observe the overall performance. By juggling in this manner you will receive optimal throughput for your hardware dollar.
Carefully document any changes that you have made to the default SQL Server and database settings.
The above tip is excerpted from Chapter 2, 'Planning your SQL Server consolidation,' of our original expert e-book, "Consolidate SQL Servers for availability, scalability and cost savings." This chapter explains six steps to consolidation and other key consolidation considerations.

How to consolidate SQL Servers

Home: Introduction
Step 1: Create a SQL Server consolidation methodology
Step 2: Analyze candidate databases, servers and more
Step 3: Test your consolidation
Step 4: Deploy consolidated SQL Servers
Step 5: Monitor and stabilize consolidated SQL Servers

ABOUT THE AUTHOR:
Hilary Cotter
Hilary Cotter has been involved in IT for more than 20 years a Web and database consultant. Microsoft first awarded Cotter the Microsoft SQL Server MVP award in 2001. Cotter received his bachelor applied science degree in mechanical engineering from the University of Toronto and studied economics at the University of Calgary and computer science at UC Berkeley. He is the author of a book on SQL Server transactional replication and currently working on books on merge replication and Microsoft search technologies.
Copyright 2006 TechTarget
Dig Deeper on SQL Server High Availability, Scalability and Reliability
PRO+
Content
Find more PRO+ content and other member only offers, here.