Choose SQL Server installation components
Installing and configuring a SQL Server instance can be a challenging process. Installing a SQL Server 2005 instance is an entirely new learning opportunity for DBAs and developers upgrading to the latest version. Follow this step-by-step guide and experience a glitch-free installation.
Looking for something else?

Download this free guide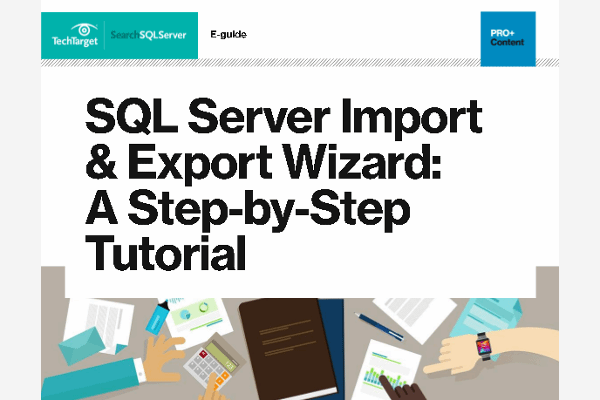 SQL Server Import & Export Wizard Step-By-Step Tutorial
In this expert-led tutorial, senior DBA and technical trainer Basit Farooq provides a step-by-step guide for using the SQL Server Import and Export Wizard to transfer data between SQL Server databases and Microsoft Excel worksheets.
By submitting your personal information, you agree that TechTarget and its partners may contact you regarding relevant content, products and special offers.
You also agree that your personal information may be transferred and processed in the United States, and that you have read and agree to the Terms of Use and the Privacy Policy.
ID
Directions
Screenshot
7
Registration Information – Enter the 'Name' and 'Company' for the SQL Server installation.

Press the 'Next' button to proceed.

8
Components to Install – Select the 'SQL Server Database Services' check box.

Press the 'Advanced' button on the bottom right of the screen to proceed to the next step.

9
Feature Selection – Validate that all of the Database Services options are selected.

If the options are not selected which is indicated by a red X, then right click on the feature and select the installation of the option.

Press the 'Next' button to proceed.

10
Installed Instances – If applicable, existing instances will be listed with the application, version, edition and language.

Press the 'OK' button to proceed.

11
Instance Name – Select the instance type. The default instance is just the server name, i.e. Server1. The named instance is one of many instances that can be installed on the machine in the form of the server name and instance name, i.e. Server1Inst1.

*** NOTE *** - Only a single default instance can be created, but numerous named instances can be created.

Press the 'Next' button to proceed.

Installing a SQL Server 2005 Instance

Home: Introduction
Step 1: Begin your SQL Server instance installation
Step 2: Choose SQL Server installation components
Step 3: Specify account, authentication mode and settings
Step 4: Click 'Install' and review your summary log
Step 5: Install SQL Server Service Pack 1

ABOUT THE AUTHOR:
Jeremy Kadlec is the Principal Database Engineer at Edgewood Solutions, a technology services company delivering professional services and product solutions for Microsoft SQL Server. He has authored numerous articles and delivers frequent presentations at regional SQL Server Users Groups and nationally at SQL PASS. He is the author of the Rational Guide to IT Project Management. Jeremy is also the SearchSQLServer.com Performance Tuning expert. Ask him a question here.
Copyright 2006 TechTarget
---
Dig Deeper on Microsoft SQL Server Installation