Problem solve
Get help with specific problems with your technologies, process and projects.
SQL Server 2005 permissions capabilities
In SQL Server 2005, more permissions can be given at both the instance and database level, compared to previous releases. Permissions can also now be inherited. Here are some examples to illustrate this SQL Server 2005 security feature.
In SQL Server 2005, more permissions can be given both in the instance and in the database level than in previous...
Continue Reading This Article
Enjoy this article as well as all of our content, including E-Guides, news, tips and more.
By submitting your personal information, you agree that TechTarget and its partners may contact you regarding relevant content, products and special offers.
You also agree that your personal information may be transferred and processed in the United States, and that you have read and agree to the Terms of Use and the Privacy Policy.

releases. Also, permissions can now be inherited -- for example, permissions given to a schema are inherited by the schema's objects.
Here are examples of new permissions:
CONTROL -- functionally equivalent to all permissions
More on permissions in SQL Server 2005:
granted to the object's owner and inherited by all subentities within its scope. Principals that have CONTROL permission on a securable can grant permission on that securable.

For example:

-- Grant CONTROL permission on
AdventureWorks user Michelle
-- to user Joseph
-- now the user Joseph can grant permissions
on the user
-- "Michelle":
USE AdventureWorks;
GRANT CONTROL ON USER::Michelle TO Joseph;

ALTER ANY -- provides the ability to alter properties of an object. Depending on the scope, inheritance can be limited to objects of a specific type. For example, its variation in the form ALTER ANY 'object_type' grants permissions to modify every instance of 'object_type' within server or database scope.

For example:

ALTER ANY DATABASE DDL TRIGGER

ALTER ANY SCHEMA

ALTER ANY ROLE

IMPERSONATE -- permits impersonating another user, without requiring SysAdmin or dbo privileges, as was the case in SQL Server 2000.

For example:

-- Grants IMPERSONATE permission on user
Michelle to
-- AdventureWorks application role
Accountants.
-- The role Accountants can now impersonate
Michelle:
USE AdventureWorks;
GRANT IMPERSONATE ON USER::Michelle TO
Accountants;


VIEW DEFINITION -- gives read access to an object's metadata via catalog views.

For example:

-- Grant role "public" to view any object
definition
-- in the instance level:
GRANT VIEW ANY DEFINITION TO public

-- Grant role "public" to view any object
definition
-- in the database level:
GRANT VIEW DEFINITION TO public

-- Grant VIEW DEFINITION permission on
AdventureWorks
-- role Accountants together with GRANT
OPTION to database
-- user Michelle (now user Michelle can view
the definition of the Accountants role and
grant it permissions):
USE AdventureWorks;
GRANT VIEW DEFINITION ON ROLE::Accountants
TO Michelle WITH GRANT OPTION;

This tip is excerpted from New security model in SQL Server 2005.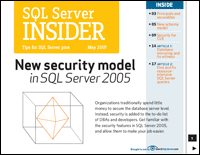 Security at the server level is typically the responsibility of the DBA or developer, rather than an organizational initiative. With this in mind, Microsoft added a number of security features to SQL Server 2005 intended to make it an easier task.
The new security model in SQL Server 2005 defines two main security objects – principles and securables. In this edition of SQL Server Insider, expert Michelle Gutzait reviews the new security model in SQL Server 2005 and argues the importance of defined security standards and ways they should be applied, managed and controlled. Read this ezine from SearchSQLServer.com to get SQL Server security information about:
• Security configurations for SQL Server
• Surface area configurations
• Data encryption
• The strength of the new schema model and more!

ABOUT THE AUTHOR:
Michelle Gutzait works as a senior database consultant for ITERGY International Inc., an IT consulting firm specializing in the design, implementation, security and support of Microsoft products in the enterprise. Gutzait has been involved in IT for 20 years as a developer, business analyst and database consultant. For the last 10 years, she has worked exclusively with SQL Server. Her skills include SQL Server infrastructure design, database design, performance tuning, security, high availability, VLDBs, replication, T-SQL/packages coding, and more.
Copyright 2007 TechTarget
Dig Deeper on Microsoft SQL Server 2005
PRO+
Content
Find more PRO+ content and other member only offers, here.