General Database Utilities
Silver Award:
Atadore PromptSQL 1.0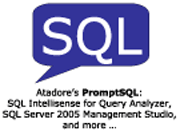 Considered "a great product at a great price" by our judges, the Silver Award goes to Atadore Prompt SQL 1.0 in the General Database Utilities category. This product provides name completion within Microsoft's Query Analyzer, Visual Studio and SQL Server 2005 Management Studio.
Atadore PromptSQL earned top marks for ease of integration and value, and it and exceeded or matched the scores of all other contenders in innovation and ease of use. The areas where PromptSQL falls short, according to two out of three judges, were in functionality, support and performance: "I have noticed some slight delays with it on databases with large numbers of objects," said one judge. However, they also referred to it as "an addictive tool." Another judge's only question: "Why didn't Microsoft include this in [SQL Server 2005]?"
PromptSQL is an add-on program written in C# that works seamlessly with Microsoft SQL editors. It uses low-level system hooks to intercept keystrokes, and it is easily invoked when pressing Ctrl-Space, entering ' . ' after a database object name or clicking Tab after a "snippet."
PromptSQL closely resembles Microsoft IntelliSense, a feature introduced in Visual Studio IDE that automatically completes variable names, functions and member functions.
When users suggest new features, Atadore works to deliver a beta within a matter of days. One such enhancement to PromptSQL involves being able to automatically remove entries from pop-ups if they do not start with the text being completed.
Price: Atadore PromptSQL is priced at $25 for a single-seat license. Volume discounts are also available.