Making the leap to storage area networks (SANs) will ultimately improve performance in your SQL Server environment. Although SAN admins have the brunt of the responsibility, SQL DBAs must be involved from SAN setup through maintenance. This tutorial equips you with everything you need to know about SANs, from concept to implementation. You'll get expert advice for migrating to and configuring SANs, along with specific advice such as setting up SANs on a cluster and how to use SAN snapshots.
eBook


THE WINDOWS MANAGER'S GUIDE TO iSCSI SANs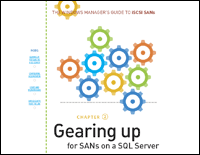 Chapter 2: Gearing up for SANs on a SQL Server
Using iSCSI SANs on a SQL Server can improve performance, reduce infrastructure costs and facilitate system scalability. Get details on how to configure an iSCSI SAN for optimal SQL Server performance and growth.
Media


Podcast: Get the basics on using SANs for SQL Server
Are you a SQL Server DBA new to working with storage area networks? In this podcast, SQL Server MVP Hilary Cotter shares SAN basics for beginners. Cotter explains the benefits of using SANs in place of DAS (direct attached storage), how to troubleshoot SAN performance and the most common problems DBAs have when configuring SQL Servers to use SANs.
Webcast: Configuring SQL Server on SANS
If you're a DBA who's just beginning to work with storage area networks in your SQL Server environment, this webcast will guide you through best practices for SAN configuration. SQL Server MVP Hilary Cotter takes you from the pros and cons of SANs and disk fundamentals to the ideal number of LUNs and disk performance counter settings for the buffer manager.
Other SQL Server and SAN setup details discussed in this webcast include:
RAID 5 vs. RAID 10
Partition alignment
Read cache/Write cache
SQLIO and SQLIOStress tools
Filegroups/Files per LUN
TempDB placement
Articles


Tips for moving from SQL Server local disk storage to SANs
Implementing storage area networks in your SQL Server environment can make your locally attached storage system seem primitive. Moving to SANs means understanding concepts of multiple fabrics, advanced redundancy and storage multipathing, including that for clustered databases. SQL Server expert Brent Ozar tells you what a SQL Server DBA needs to know about SANs – without the intimidation factor.
SQL Server backups using SAN database snapshots
Get point-in-time database copies from your storage area network. SAN snapshots allow SQL Server to bypass backups at the operating system level and only take a few seconds, regardless of drive size. In his overview on SAN snapshots for the DBA's tool belt, SQL Server expert Brent Ozar discusses performance impact, filegroup and file layout, replication, transaction logs and snapshots for data warehouses.
SAN considerations for your SQL Server environment
SANs surpass the performance of locally attached storage for its high availability and high performance access to data. SQL Server MVP Hilary Cotter highlights what you need to consider when using SANs and how to test your SQL Server environment.
SAN basics every SQL Server DBA must know
Storage area networks mean better management and improved performance for your SQL Server environment – but only if people in charge understand them. SQL Server expert Denny Cherry explains concepts such as the importance of selecting your RAID level and storage tiers and he also disproves the myth that SANs are 'magical devices.'
Setting up SQL Server clusters on a SAN
Storage area networks make it easy to connect massive amounts of expandable storage to a server. SANs are particularly useful for SQL Server installations: Enterprise databases don't just require a great deal of storage; they also have continually-expanding storage needs. That said, you need to take some care when using SANs in clustered SQL Server environments. Keep these suggestions in mind when setting up a SQL Server cluster on a SAN.
Optimize SAN setup for improved SQL Server performance
Maybe you're already using SANs in your SQL Server environment, but is it the optimal setup? Consider these pointers for a disk system design that yields a high performing and scalable SQL Server environment.
This was first published in June 2008