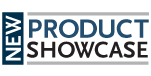 SQL Farm Combine 2.0 is a scalable SQL Server deployment tool that allows administrators to execute scripts and push changes to many databases and servers at once. It automates SQL Server deployments and moves changes from development to QA and production.
SQL Farms Inc.'s SQL Farm Combine 2.0 allows database administrators to automate project releases, stop SQL services on all network instances and administer a farm of SQL Servers, instances and databases the same way they manage a single database today. The tool also offers command-line executions and deployment to support scheduled rollouts and changes.
The latest release of SQL Farm Combine, version 2.0 enables database administrators and users to schedule deployment and execution of code and tasks, including scheduled password synchronization and scheduled rollouts of database objects and code. These features let DBAs perform unattended changes and deployments and receive email notifications and message attachments in response to execution results.
In addition, the new scheduling options allow custom performance monitoring and reporting applications, such as Web interfaces and data collectors, to automatically retrieve data in response to custom queries from all databases and servers in a single results set and without the use of agents.
Another significant new feature of SQL Farm Combine 2.0 is support for Aldon Lifecycle Manager (LM) as a source-code control provider. Aldon makes change and configuration management tools as well as source control and deployment systems. SQL Farm Combine 2.0's new Aldon LM capability means that large enterprises and data centers that employ both can easily use them in collaboration with each other.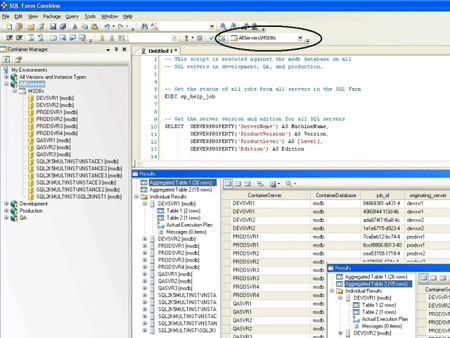 Figure 1: SQL Farm Combine 2.0
System requirements: 512 MB RAM, 256 MB free disk space, and Windows XP, Windows 2000, Windows 2003, or Windows Vista.
Pricing: SQL Server instance-based licensing costs $495 per instance and includes unlimited user licenses. User-based licensing is $4,000 per user and includes unlimited SQL Server instances. Site licenses start at $20,000 with unlimited user licenses and SQL Server instance licenses for one site. Enterprise licenses begin at $50,000 and include user licenses and SQL Server instance licenses throughout the enterprise.
This was first published in January 2008