Manage
Learn to apply best practices and optimize your operations.
Monitoring report server performance
Performance monitoring tools can follow server performance and gather data to help you determine whether the current system configuration is adequate. Microsoft Windows Server operating systems provides the folliwng performance tools: Task Manager, Event Viewer, Performance console.

You can use performance monitoring tools to monitor report server performance to evaluate server activity, observe trends, diagnose system bottlenecks, and gather data that can help you determine whether the current system configuration is adequate. A combination of technologies and tools enables you to get comprehensive information about how the system is performing. Microsoft Windows Server operating systems provide performance information through the following tools: Task Manager, Event Viewer, and Performance console.

Using Task Manager

Task Manager provides information about programs and processes running on your computer. You can use Task Manager to monitor key indicators of your report server's performance. You can also assess the activity of running processes and view graphs and data on CPU and memory usage.

Download this free guide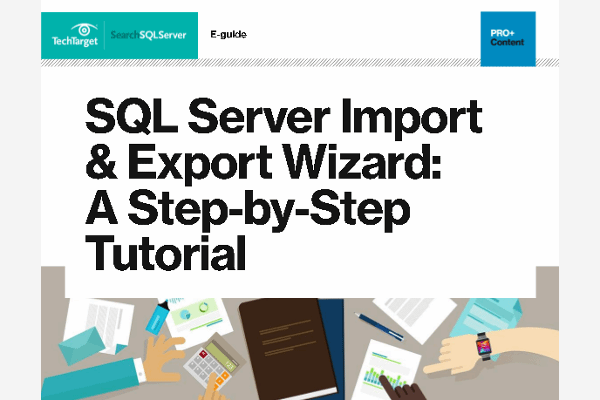 SQL Server Import & Export Wizard Step-By-Step Tutorial
In this expert-led tutorial, senior DBA and technical trainer Basit Farooq provides a step-by-step guide for using the SQL Server Import and Export Wizard to transfer data between SQL Server databases and Microsoft Excel worksheets.
By submitting your personal information, you agree that TechTarget and its partners may contact you regarding relevant content, products and special offers.
You also agree that your personal information may be transferred and processed in the United States, and that you have read and agree to the Terms of Use and the Privacy Policy.

Using Event Viewer
Using Event Viewer, you can view and set logging options for event logs in order to gather information about hardware, software, and system problems.
A server records events in three kinds of logs:
Application log: Contains events logged by applications or programs. For example, a database program might record a file error in the application log. Application developers decide which events to log.
Security log: Records events such as valid and invalid login attempts, as well as events related to resource use such as creating, opening, or deleting files or other objects. For example, if login auditing is enabled, attempts to log in to the system are recorded in the security log.
System log: Contains events logged by Windows system components. For example, the failure of a driver or other system component to load during startup is recorded in the system log.

The event types logged by system components are predetermined by the server. Event Viewer displays five types of events:
Error: A significant problem, such as loss of data or loss of functionality. For example, if a service fails to load during startup, an Error is logged.
Warning: An event that is not necessarily significant, but might indicate a possible future problem. For example, when disk space is low, a Warning might be logged.
Information: An event that describes the successful operation of an application, driver, or service. For example, when a network driver loads successfully, an Information event is logged.
Success Audit: Any audited security event that succeeds. For example, a user's successful attempt to log on to the system is logged as a Success Audit event.
Failure Audit:Any audited security event that fails. For example, if a user tries to access a network drive and fails, the attempt is logged as a Failure Audit event.

Using Event Viewer, you can define logging parameters for each kind of event log. To define parameters, right-click a log in the console tree and click Properties. On the General tab, you can set the maximum size of the log and specify whether the events are overwritten or stored for a certain period of time.

The previous tip was excerpted from Chapter 14, 'Optimizing Report Performance,' from the book "Microsoft SQL Server 2005 Reporting Services for Dummies" by Mark Robinson, courtesy of Wiley Publishing. Click here for the complete collection of book excerpts.
Dig Deeper on Microsoft SQL Server Performance Monitoring and Tuning
PRO+
Content
Find more PRO+ content and other member only offers, here.