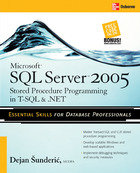 The following tips are from "15 tips in 15 minutes: Basic Transact-SQL Programming Constructs," excerpted from Chapter 3, of the book "Microsoft SQL Server 2005 Stored Procedure Programming in T-SQL & .NET" by Dejan Sunderic, courtesy of McGraw-Hill Publishing.
All modern relational database management systems are based on an implementation of SQL (Structured Query Language). Most vendors have extended SQL into a more sophisticated programming language. The ANSI committee has standardized the language several times, of which ANSI SQL-92 is the latest specification. Unfortunately (or fortunately—depending on your point of view), each vendor has created its own version of this specification to extend ANSI SQL.
The language in use in Microsoft SQL Server is called Transact-SQL (T-SQL). It complies with the ANSI SQL-92 standard, and you can use this ANSI SQL–compliant language to select, update, insert, and delete records from tables.
BOOK INFORMATION:
Develop complex stored procedures to retrieve, manipulate, update, and delete data. Microsoft SQL Server 2005 Stored Procedure Programming in T-SQL & .NET identifies and describes the key concepts, techniques, and best practices you need to master in order to take full advantage of stored procedures using SQL Server's native Transact-SQL and .NET CLR languages. You'll learn to incorporate effective Transact-SQL stored procedures into client or middleware code, and produce CLR methods that will be compiled into CLR stored procedures. This is a must-have resource for all SQL Server 2005 developers. Click here for complete book and purchasing information.


Basic Transact-SQL Programming Constructs

Home: Introduction
Tip 1: T-SQL identifiers
Tip 2: Database object qualifiers
Tip 3: Character string data types
Tip 4: Date, time and number data types
Tip 5: Special data types-Part 1
Tip 6: Special data types-Part 2
Tip 7: Local variables
Tip 8: Global variables
Tip 9: Table variables
Tip 10: Flow control statements
Tip 11: Blocks, looping and conditional statements
Tip 12: Unconditional and scheduled execution
Tip 13: Transact SQL cursors
Tip 14: Cursor related statements
Tip 15: Problems and justified use of cursors

This was first published in February 2007