SQL 2014: Investigating Microsoft's latest database release
With the release of SQL Server 2014, database administrators have a wealth of new business intelligence and processing capabilities to exploit. But is the time right to upgrade? Get helpful tips and insights here.
Introduction
Less than two years after the release of SQL Server 2012, Microsoft is offering SQL Server 2014, an improved database with numerous enhancements compared with previous versions. SQL 2014  features include increased availability and scalability, streamlined cloud integration, and columnar indexes. Many in the industry are touting its expanded in-memory capabilities, previously codenamed Hekaton, which dramatically boost transaction speeds.
Yet many database administrators may find it challenging to justify another costly upgrade. Others who are still using an older version may not be sure which upgrade is the best fit for their organizations. And how much training will be involved? Some analysts question why Microsoft chose not to offer SQL Server 2012 R2, and instead went ahead with SQL 2014.
This guide presents insights into these changes and concerns, and offers news, tips and features that provide an in-depth examination of the many new enhancements that come with SQL Server 2014.
1

Key features

-
What's new in SQL Server 2014
Developers and administrators began dabbling in the new functions of SQL 2014 back in June 2013, and with the full release, these enhancements have become available to everyone. In the articles in this section, peruse the key features of SQL 2014, including added security, in-memory online transaction processing (OLTP), columnar storage and more.
2

In-memory OLTP

-
A closer look at in-memory processing in SQL 2014
The addition of in-memory online transaction processing to SQL Server 2014 is arguably the most talked-about architectural enhancement to SQL database performance. In the following articles, learn about how it works, what benefits it offers and where it falls short.

Download this free guide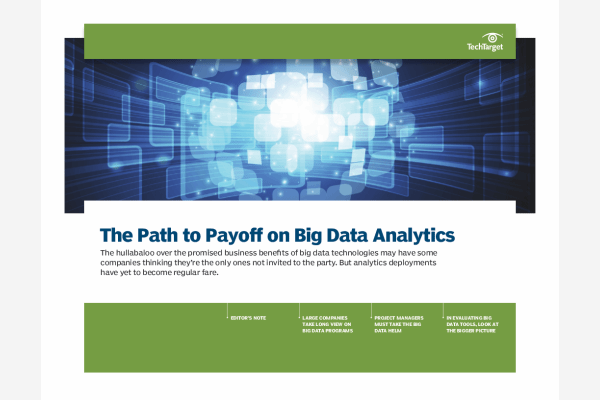 Download Our Exclusive Big Data Analytics Guide
An unbiased look at real-life analytics success stories, including a Time Warner Cable case study, and tips on how to evaluate big data tools. This guide will benefit BI and analytics pros, data scientists, business execs and project managers.
By submitting your personal information, you agree that TechTarget and its partners may contact you regarding relevant content, products and special offers.
You also agree that your personal information may be transferred and processed in the United States, and that you have read and agree to the Terms of Use and the Privacy Policy.

3

Expert commentary

-
Commentary on SQL Server releases
With the ongoing releases of SQL Server come shifts in the functions and capabilities of related technologies. Experts and users give their feedback on these changes and the bigger picture surrounding SQL Server upgrades in the articles that follow.
4

Glossary

-
Glossary of terms related to SQL Server upgrades
Learn and review definitions of terms commonly associated with SQL Server in this glossary.