Definition
Microsoft SSIS (SQL Server Integration Services)
Microsoft SSIS (SQL Server Integration Services) is an enterprise data integration, data transformation and data migration tool that is built into Microsoft's SQL Server database. It can be used for a variety of integration-related tasks, such as analyzing and cleansing data and running extract, transform and load processes to update data warehouses.
Hadoop 2 Upgrades: Ready to Take Advantage?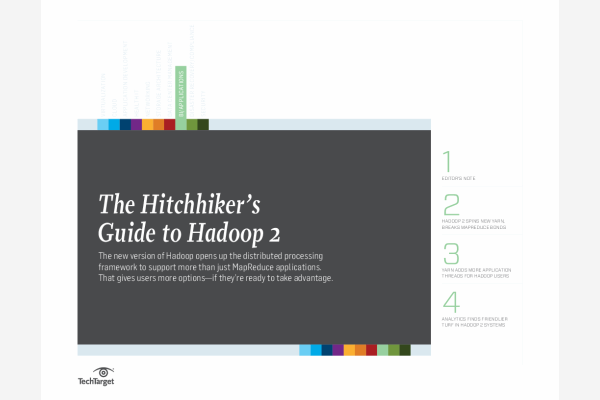 Hadoop doesn't lack for attention, but that has yet to translate into high adoption or success rates. Find out if you should leverage Hadoop 2 upgrades here.
By submitting your email address, you agree to receive emails regarding relevant topic offers from TechTarget and its partners. You can withdraw your consent at any time. Contact TechTarget at 275 Grove Street, Newton, MA.
You also agree that your personal information may be transferred and processed in the United States, and that you have read and agree to the Terms of Use and the Privacy Policy.

SSIS can extract, transform and consolidate data from multiple relational databases as well as sources such as XML data files and flat files, then load the processed information into an enterprise data warehouse or other target systems. It includes a set of tools for developing and testing integration programs, called SQL Server Data Tools, plus a server component for deploying and running the programs. In addition, Microsoft's SQL Server Management Studio software is incorporated into SSIS for managing and monitoring integration routines.
Microsoft SSIS was introduced with SQL Server 2005 as a replacement for an earlier integration tool called Data Transformation Services. In SQL Server 2014, a data import and export wizard and a set of packaged data source connectors are included in all editions of the database. But users have to buy the Standard, Business Intelligence or Enterprise editions to get the SSIS designer and runtime components as well as basic data profiling tools and pre-built transformations. Advanced adapters and transformations are only available in the Enterprise edition.
This was first published in
August 2014
Continue Reading About Microsoft SSIS (SQL Server Integration Services)
Dig Deeper on Microsoft SQL Server Integration Services (SSIS)